Boost Holiday Sales with Retail Execution Apps
Dec 05, 2013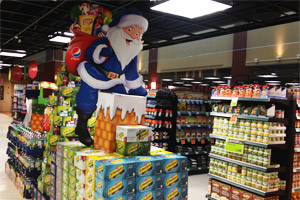 The holiday season is upon us, bringing joy, cheer, and one-fifth of all retail spending for the year. This season, retail spending in the US is expected to rise to $738 billion.
Consumer goods manufacturers and brick-and-mortar retailers have a lot to lose if they aren't achieving flawless retail execution. With added pressure from e-commerce channels, it is more critical than ever to ensure products are available on retail shelves and promotions are executed properly.
As more and more retailers and consumer goods manufacturers collaborate to share POS, shipping and other big data, questions still remain about what is actually happening on the shelf, in stores, in real-time. With such high stakes over such a short period of time, the holidays are the most important time to get retail execution right.
The issue is that the important questions surrounding retail execution can only be answered by human observation. Are products on shelves, tagged and displayed correctly? What are the expiry dates on competitors' products? Which brand of clothing are the retail sales representatives wearing?
Asking the right questions, and equipping teams on the ground with a means to answer those questions in real-time and take action if necessary, can help to tap into those missing insights that drive critical sales during peak seasons.
Mobile apps that connect back to the enterprise can provide an efficient way to collect real-time data from store surveys and provide product and distribution data to the front line to ensure that sales as maximized.
Here are 5 ways that a mobile retail execution solution can boost sales.
1. Real-time insight
Before mobile technology, the fastest way to find out what was happening in stores was to fill in lengthy paper surveys and enter that information into a computer or send it back to the office for further processing. Now, programming-free enterprise app platforms can now be used to design and deploy custom surveys, mobile forms, or workflow apps quickly, for real-time information gathering. The ability to modify or create new apps easily is important for launching custom surveys to measure seasonal promotions, for example. The solution should include a database so that reporting or integration can be automated.
2. Increased coverage
By virtually eliminating the administrative tasks required after each store visit, teams in the field can accomplish more high-value activities, complete more surveys, and spend more time in stores instead of in front of a computer. Mobile apps can drastically improve the efficiency of conducting store visits. With role-specific apps, users will only see the information they need to, whether it's certain products, stores in their territory, audits assigned to them or the season's latest promotion to check on.
3. Better planning
More data gathered in stores and more accurate data leads to better planning and deeper insights into trends and issues. For fast moving consumer goods, field staff can pro-actively monitor expiry dates and run ad-hoc promotions for products before they expire. Competitor's promotions can be monitored to identify trends and stay ahead.
4. One version of the truth
Connecting the dots between product shipment and POS data can take time and lead to inconsistencies. The information gap between the loading dock and sales register adds uncertainty about what really happened at the store level. Rich information gathered with mobile apps can shed light on in-store conditions. It's important to collect the information independently, rather than by the merchandisers immediately after the shelf is stocked. Photos, GPS, timestamps and other data can help to provide one version of the truth and close the loop with brokers, merchandisers and retailers.
5. New metrics
The agility of a programming-free employee app platform allows new metrics to be imagined, implemented, and deployed in a fraction of the time of paper forms or custom developed apps. If a new competitor emerges, a new promotion launches, or a question about which products retail sales reps recommend piques a manager's curiosity, the path to finding that information is much shorter with the right enterprise mobile app solution.
Learn how to maximize ROI on your retail execution solution.
Related Links
« 5 Reasons to Take Paper Out of Property Management
Celebrating 10 Years of Field Service Management with Mobile Apps »