From the Field to Your Inbox: Save Time with PDF Email Reports
June 13, 2016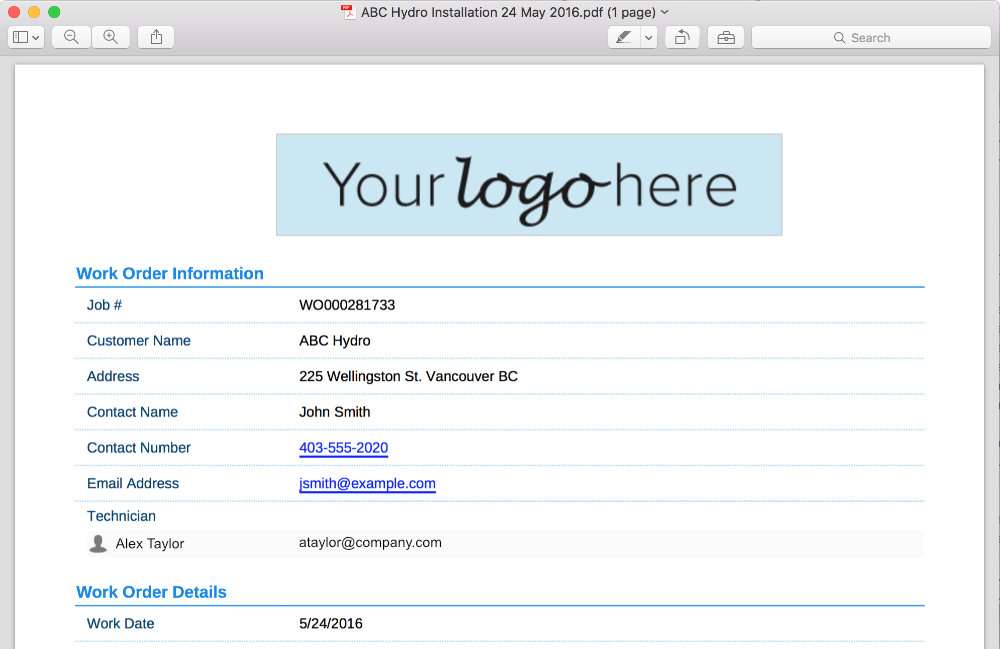 If you have staff in the field, whether technicians, auditors, engineers or sales reps, you have information to keep track of away from the office. This may involve paper, spreadsheets, emailing files around, or phone calls. Imagine having that information streamlined, collected in a mobile app customized for your business, and then instantly converted to a PDF and emailed to your customers, managers, office staff, or partners.
We recently published a new article in the Knowledge Base, outlining how to send email notifications with PDFs. After work is completed in the field for example, your teams can send PDF summary reports of work details to the office, your customers, a store manager, or any other project stakeholder. With a few easy clicks, you can automate your existing business processes and keep everyone in the loop at all times.
Here's a breakdown of how sending email notifications with PDFs can help your business:
1. Reduce administrative work and update everyone simultaneously
Save time and get rid of manually notifying management and customers separately about project updates. Simply send daily emails and reports of completed field work to all parties involved at the same time.
2. Enable customers to be self-sufficient
Provide reports to customers for their own recordkeeping and internal use. Detailed reporting can enable customers to handle inquiries internally without having to reach out to your team.
3. Identify missing steps and crucial information
Send daily reports to management for review and catch red flags immediately. Managers can quickly identify what additional field data needs to be captured, reviewed, or removed, within the reports.
4. Improve visibility and build rapport
Keep stakeholders happy by letting them know about project updates and status changes at the same time your team finds out. Build trust and boost transparency to deliver better customer service.
5. Create an audit trail and prevent disputes
Collect details as jobs are performed and prevent disputes with customers. Summary reports can include GPS locations, time-stamped photos, and digital signatures to provide a clear picture of work completed in the field. Keep a record of when and where PDFs are sent.
6. Reduce delays in decision-making
Inform upper management about field data results right away to speed up decisions from weeks to days. Reports are in printer-friendly PDF format for easy distribution across all teams.
Keeping your customers, management and stakeholders in the loop doesn't have to be difficult. Flowfinity software lets you easily communicate information from the field for regular check-ins, urgent matters, and last minute changes through a variety of tools. Whether it's a simple email or detailed PDF summary report, Flowfinity can help make it effortless for everyone to be in the know.
To try out this feature and test the software yourself, start a free trial today.
Transform your business with mobile apps.
« Smart vs. Simple Mobile Forms