How Engineering-Construction Firm Englobe Went Paperless in 7 Days
Mar 26, 2015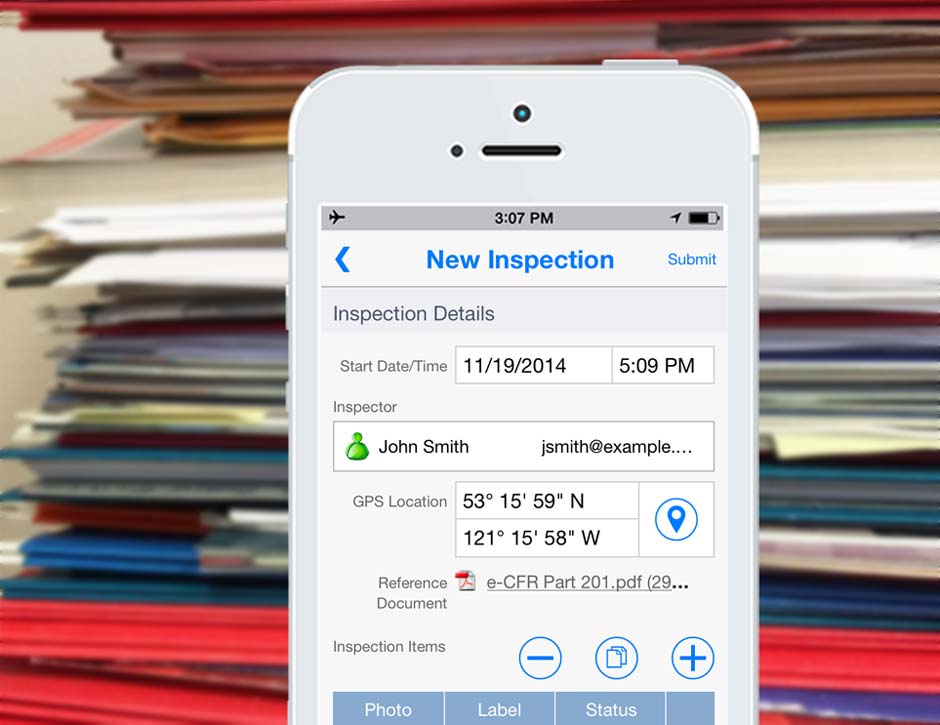 Making a big change in your routine can be a challenge. You're used to certain habits, and you have to learn to work in a new way. This new pattern may be more efficient and better for you, but the transition from familiar to new can be daunting, and cause many attempts of trial-and-error.
Now imagine you're a large enterprise with a team of nearly 1,600 engineers, professionals, technicians, and support staff. You have one week to deploy a custom mobile inspection solution for a project, abandoning your paper form alternative. This is a big change; can it be done in a week?
This was the challenge for Englobe, a leading engineering-construction firm in North America. The division had a commitment to one of Canada's largest retailers to complete building inspections of 380 retail locations across the country within a very short timeframe. For previous projects, Englobe relied upon paper forms to gather inspection data. This led to delays, missing or inaccurate information, and extra overhead for data entry and reporting.
With such a short deadline, Englobe needed a solution that was fast, simple and effective. Time couldn't be spent developing a solution from scratch, but they did not want to settle on a basic form with limited functions that couldn't adapt and cater to their needs. Flowfinity offered a great solution that allowed Englobe to go paperless in one week. How did they do it?
Well-Defined Business Processes
Englobe already had a sound, detailed system for getting the job done, but were being slowed down by paper processes and tasks. Taking operations mobile for this project could be accomplished quickly because the business processes were already well-defined; they just had to be mobilized. Flowfinity's flexible options for creating mobile workflows provided full support for complete business processes, allowing field work to happen at maximum efficiency.
Flowfinity Professional Services
In addition to Englobe using Flowfinity's mobile solution, they hired Flowfinity to configure the new system for them, bypassing the learning curve it would take to configure the system themselves. Flowfinity was able to adapt the solution to fit Englobe's needs and quickly set them up for success.
Private Cloud Hosting
Englobe chose a Flowfinity private cloud hosted solution instead of hosting the solution on premise, giving them the speed of deployment of a cloud solution while still maintaining control of their database. Englobe's decision to have Flowfinity host the solution reduced the time it took to get their mobile solution up and running by reducing the need for internal IT resources involvement.
Code-Free
Flowfinity is a codeless tool, making configuring workflows, mobile forms, and more a breeze for Englobe. This code-free approach allowed the company to achieve custom apps quickly without compromising on features or overall effectiveness of their system.
Cross-Platform Compatibility
Englobe chose iPads for their employees to collect data in the field; they were not limited to this choice by the type of app they were using, but found it was most suitable for them. Flowfinity's mobile solutions work across all platforms and devices, so no time is wasted developing and maintaining the app for individual platforms. Changes and developments only have to be made once, and can be applied regardless of what devices your employees and clients are using.
User Management Tools
With Flowfinity's solution all set up, Englobe has total control. The interface for management is straightforward and user-friendly, allowing for head office to easily make adjustments, set up employees and authentication information. This made it quick and painless for Englobe to set up their system, add their employees, and be up and running in a matter of days.
Flowfinity's mobile solution and Professional Services allowed Englobe to finish their project by the tight deadline, and left them with a more efficient, flexible solution than their previous paper forms. Now, LVM achieves better customer service with improved data accuracy real-time updates, while reducing their administration costs from retyping data and creating reports manually.
"Flowfinity definitely gives us an advantage, because our clients are reassured that we are using the latest mobile technology for real-time management of field operations, and gathering accurate, rich information at each building site. Our field staff are also more productive with Flowfinity, enabling us to keep projects on-time and on-budget."
- Yves Branconier, Service Director, Englobe
Start building your enterprise mobile app solution today with a free trial.
Related Links
« Bridging the Mobility Gap Between IT and Line of Business Executives
6 Ways Mobile Forms Are Transforming the Insurance Industry »