Mobile Enterprise App Must-Have Checklist Part 4: Data Collection
Mar 12, 2015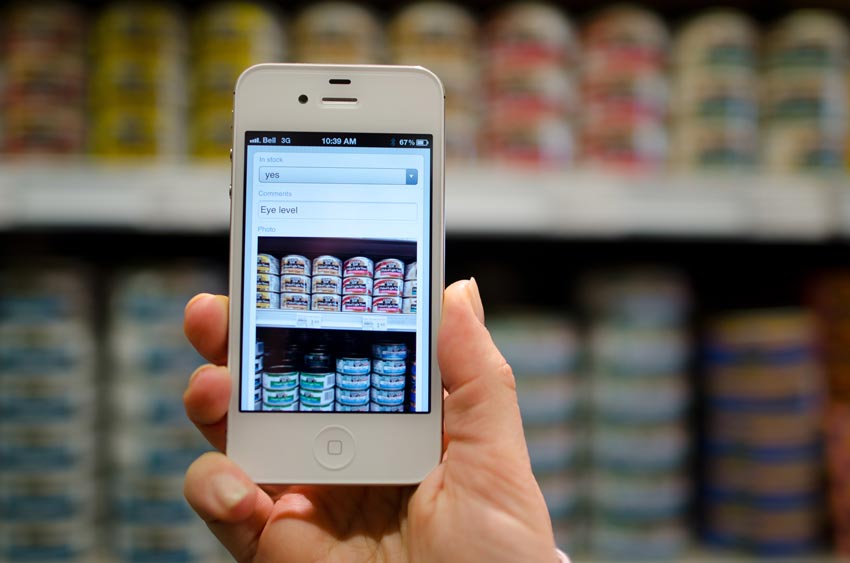 In this fourth and final post of our Mobile Enterprise App blog series, we're going to look at the essential components of a mobile app for data collection.
Paper and spreadsheets are no longer necessary for data collection in the field; rather, it can be streamlined with mobile apps to eliminate hours of data entry, looking for lost paperwork, or clarifying handwritten info. Here's a look at the features you'll want to make sure are available when looking to use mobile apps for data collection.
Two-Way Information
Forms that only support one-way data submission leave users in the field hanging. With one-way forms, users can't look up any business information on their mobile devices or even access forms that they've previously submitted. Look for solutions with two-way information flow, so employees can pull up valuable data wherever they are, or review and edit previous submissions.
Customizable Workflows
Forms don't exist in a vacuum - they are always part of a larger business process. Whether it starts with a dispatched job, task assignment, or customer request, a business process has a start and destination, and the mobile form typically needs to track that process from beginning to end. Think of your business workflows in advance and find out if your mobile solution supports these workflows, or if it stops short at data collection.
Calculations
A good app will let you input your necessary data, but a great app lets you interact with that data in real time. Instead of entering basic information and processing it later, search for an app that can make calculations and use formulas instantly. For example, you can add up items in a sales order and view the total directly on the form, or combine two words together in a separate field instead of having to process this data afterwards. Look for this feature to save follow-up and processing time.
Data Validation
On paper, there is no way to check if something is missing or incorrect until it is processed. With mobile forms and the right data validation rules in place, these costly errors can be eliminated. Consider a system that allows you to set up data validation rules to ensure all the necessary information is entered, and in the correct format.
Offline Functionality
Don't let your employees be limited to entering information only when connected to a network. An app with offline functionality will allow your workers to input data on site or in the field, anywhere, anytime. When they're back online, the information can be submitted to the server.
Lookups to Reference Data
To make your employees' jobs easier and more efficient, you'll want to be able to add lookup fields to reference data such as customer or equipment lists. Using lookups also allows you to keep your reference data updated separately, or integrated with your ERP or CRM system for example. Find out if the solution has the option to automatically keep reference data synchronized in all of your previous records.
Conditional Visibility
Your entry form needs may change depending on the circumstance. In any given circumstances, your entry form needs may change. Instead of training users on every aspect of the app, opt for a system that lets you dynamically show or hide fields, and implement skip logic to guide users through forms. This can reduce training time, allow for more versatile forms, and avoid unnecessary empty or confusing fields in your mobile form.
Cross Platform
Device popularity changes often. What may seem like the best platform today may be history tomorrow. Choose a solution that ensures that your software investment is protected and not tied to any particular platform. Flowfinity apps are automatically cross platform on iPhone, iPad, Android, Windows 8 or Windows Phone 8 devices without any customization required.
Nested Fields
Nested fields can be lists, tables or forms within forms that grow dynamically as you add information. From parts lists to sales orders, this type of data structure is critical for any data entry that has variable items. Many simple forms solutions only support flat data without nested fields. Think through your business process requirements make sure that your form can support them, online or offline.
Flexible Integration
Your data collection system should not cause more headaches after the data is collected. Look for integration options for your existing backend systems and find out how they can be implemented. Remember that using CSV files will work in some cases, but other integration options are valuable too.
Mobile enterprise apps provide fast, efficient replacements to old-school paper operations, allowing employees to complete tasks remotely and in real-time. With this ability, you can keep management, project stakeholders, customers, and team members up-to-date while you avoid issues, reduce costs, and boost revenue.
However, a mobile enterprise app without the right platform support and features that adapt to your business can cost more in the long term. It is important to make sure that your app has the right features and flexibility to meet your business process requirements. Flowfinity provides a proven, fully customizable solution for building mobile enterprise apps without programming.
Learn how to build a cost-effective data collection solution.
Related Links
« 6 Ways Mobile Forms Are Transforming the Insurance Industry
Mobile Enterprise App Must-Have Checklist Part 3: Resource Management »