Flowfinity Introduces Interactive Dashboards
May 31, 2016
Reporting, Data Visualization and Analysis in One Place
We're excited to announce a powerful new feature for end-to-end business management from the field to the office: interactive dashboards. Available on a custom project basis, these visual aids can provide convenient, detailed overviews of large business data sets at a glance.
Flowfinity software lets you create custom mobile forms and workflow apps to easily collect, report and share business information. With the addition of dashboards, informative summaries of your business data, from the field to the office, can be quickly produced and reported to speed up decision-making, track KPIs and enhance business insight.
This enables your business to visualize data collected in the field in real-time and better communicate your results in various ways.
Trends and exceptions can be identified through charts, tables, and overlapping data series, just to name a few. Dashboards not only display data, but are also connected to Flowfinity operations that allow you to launch transactions or workflows directly from charts.
For example, you could review work order details and dispatch a new service call from your dashboard, or request a new retail audit after reviewing store sales results.

Accelerate planning from accurate data
Improve visibility into field operations
Support real-time decision-making
Easily identify business trends and exceptions
Gain actionable business insights
Include analysis with data editing workflows
Live Data Interaction
Use bar graphs to display multiple sets of data and leverage the context menu to filter what you want to see. Click on specific data points to expose more detail and opt to drill down into the data further, going to the original source if needed.

Scroll within bar graphs to zoom-in and zoom-out, with automatic axis scaling being applied. Pie charts include interactive features by clicking on sections to display more details.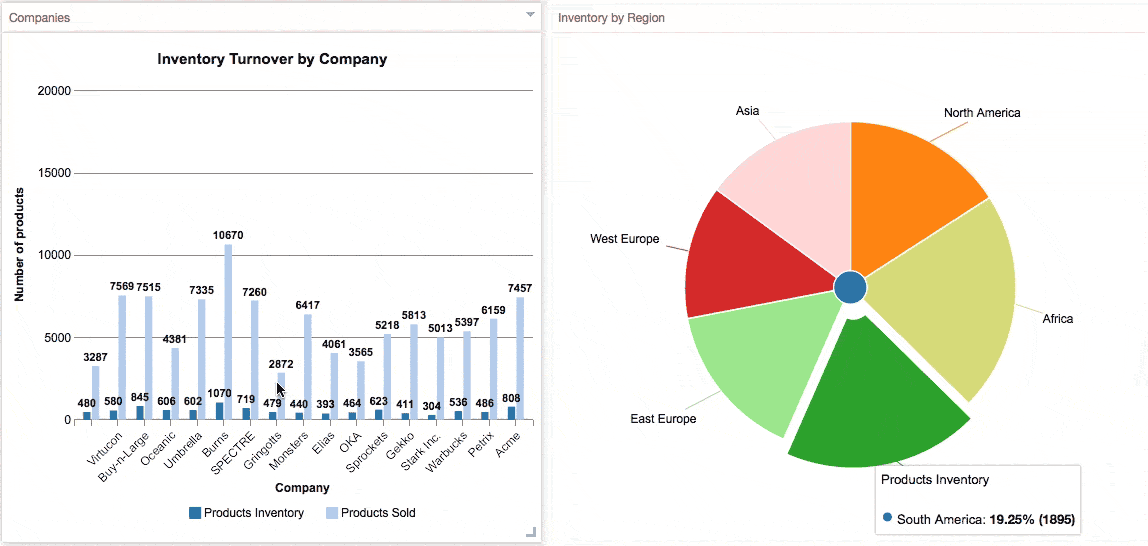 Consulting Services
Our consulting team is available to create and customize a variety of dashboards, tailored to your business needs. Pick and choose specific ways to visualize and interact with your live data, exploring on both desktops and mobile devices. By using larger touch screen devices, such as iPad, user experiences can be further enhanced through interactive charts.
To learn more about Flowfinity and how we can enhance your business with innovative mobile solutions, request a demo today.
Visualize data and connect to your business workflows with Flowfinity dashboards.
« From the Field to Your Inbox: Save Time with PDF Email Reports