Grasp the Full Picture: Improve Field Data Clarity with Photo Annotations
July 27, 2016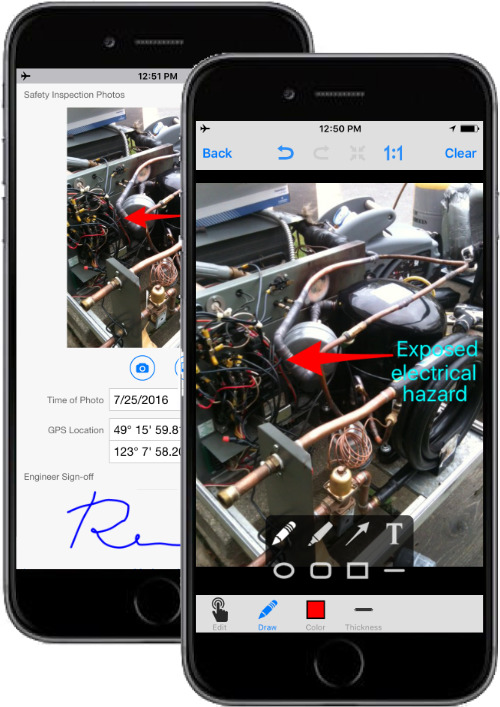 When staff are in the field collecting data, taking photos is an effective way to capture and share information. Whether you're completing store surveys, safety inspections, vehicle assessments or construction work orders, pictures can help tell the story that text can't. But the picture itself might not tell the whole story, why it is important, and what to pay attention to.
Photo annotation features found in mobile forms are elevating the way we use and depict images. They've become a powerful tool that enables you to highlight details within a photo in a convenient way, saving you time and providing better insight. Choose to free sketch, adjust line thickness, and add text, arrows, or shapes over images so you can outline what matters most. Communicate the right details to the right people, and bring attention to what's important to your business.
Here's a list of 6 ways photo annotations can change the way we use images in business:
1. Enhanced context and clarity
Even a simple photo can have many parts to it, making it difficult to interpret when it's by itself. Annotate your photos with text and symbols to highlight the relevant part, improving clarity and communicating the entire message the way you intended.
2. Visual alerts for urgent issues
When annotating photos, use a variety of colours to differentiate the severity of issues ranging from business-critical to lower priority. Red can quickly grab your attention about items needing immediate action like leaking pipelines, undersized equipment, and out-of-stocks. Blue and neutral colours can be used for relevant but less-concerning items that can be dealt with on a lower priority.
3. Better efficiency for photo-intensive tasks
Safety inspections, home assessments, engineering inspections, and store surveys are all tasks that focus on taking photos to complete the work. Photo annotating features make it easier for users to mark up the images directly, rather than filling out additional paperwork, improving efficiency and saving time.
4. High-speed reviewing by management
The faster reports are reviewed, the faster problems are resolved. Annotated photos provide a visually engaging review process for upper management, and help to identify multiple issues with a simple glance. Quickly gain actionable business insight and keep projects moving along, problem-free.
5. Improved employee accountability
Feel confident knowing an image is captured by the user at the right location and proper time. You can set up your mobile apps to automatically apply date/time stamps on photos, and ensure new photos are taken on the spot by blocking image uploads from the device's library.
6. Boosted transparency for clients and stakeholders
Annotated photos can provide clients and stakeholders visibility into your daily field activity, and prove all problems have been accounted for. With proper documentation and reliable data, you can build trust and credibility in the quality, completeness and accuracy of the information you are providing.
Flowfinity's flexible enterprise mobility solution can help automate your business processes. To learn more about us and to try annotating photos yourself, start a free trial today.
Transform your business with mobile apps.
« Enterprise Mobile Deployment: 8 Tips to Finding the Right Fit
6 Ways Insurance Firms Gain a Competitive Edge with Mobile Apps »