Bridging the Mobility Gap Between IT and Line of Business Executives
Apr 8, 2015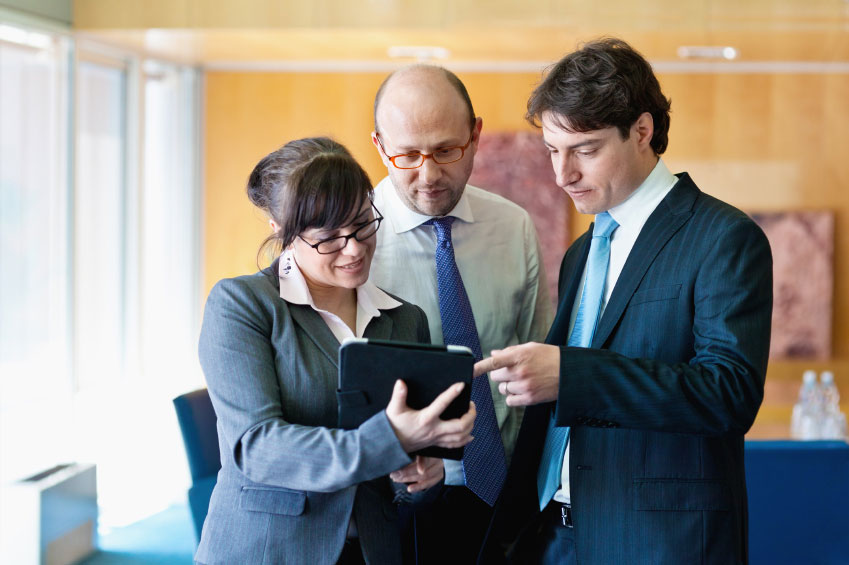 In the modern business world, a divide has developed between IT and line of business executives. Ironically, the department created to aid businesses in developing their technology systems is sometimes seen as a barrier to solving problems.
Recently published research from CIO Magazine found that "54% percent of line-of-business executives say they agree with the statement that the IT group is an obstacle to their mission, versus 33 percent of CIOs that agree with that conclusion."
The problem is clear: business executives want fast, easy solutions to their problems, without having to wait. But IT may have their hands full with regulations, policies, or other projects. By the time IT gets to a business executive's problem, it may still take a while if the solution involves coding or other time-consuming tasks. That's frustrating for business executives, but also for the IT department, which is constantly swamped with problems that need thoughtfully considered solutions, while being pressured to work faster.
So how do you create fast, easy-to-manage technology solutions while keeping both business executives and IT happy?
Enter Flowfinity with a streamlined, code-free, mobile solution. Flowfinity's app development allows for complete customization of business-to-employee apps, while remaining code-free and simple to use. Here's a look at how Flowfinity provides fast, effective solutions that keep everyone happy.
For IT departments:
No Coding
Coding is extremely time consuming. While some platforms are available for coding in a language you know and transforming that code for different device platforms, this method still involves a lengthy development cycle and can be prone to errors. Apps still need to be tested and maintained for each device platform and may suffer when it comes to functionality and usability. Flowfinity's code-free system saves countless hours for IT, allowing them to save labor, take on more projects, and not over work their employees.
Reduced Development Cycles
Without coding taking up all this time, IT can also focus more on the solution itself. Instead of settling on a minimal solution, Flowfinity allows for IT departments to go more in-depth, with complete control over mobile forms, workflows, user roles and more with point-and-click software. Mobile app security is already built-in. Once apps are created they can be instantly published to all users. Apps can also be developed or updated incrementally in a separate environment and changes can be uploaded for production use within a few clicks. Now, IT can create more personalized, helpful solutions in less time.
Instant Updates
When IT first rolls out a solution, there may be kinks and bugs that need to be worked out, or improvements that can be made. Even small changes can turn into roadblocks if coding is involved. With Flowfinity, updates to mobile apps can be made instantly, and changes or immediately updated across all devices running the program, anytime, anywhere.
User Management
Flowfinity's advanced user management features let you maintain control over who can access apps, forms, and data. Integrate Flowfinity with your existing Active Directory to simplify login procedures. You can also take advantage of role-based functionality to manage business processes across management, field staff, territories, etc.
Cross-Platform Capabilities
No more reworking solutions to fit with multiple devices. With Flowfinity, you don't have to worry about what systems and devices business executives are using; cross-platform capability means that Flowfinity apps work on iPhone, iPad, Android, Windows Phone 8 and Windows 7, 8 and 8.1 devices as soon as they are published. For staff at the office, Flowfinity apps can also be accessed via a web browser.
Flexible Deployment Options
Flowfinity is available with on-premises, private cloud or multi-tenant cloud hosting, giving you the flexibility to choose which deployment option is best for your data, access and security requirements.
Integration
Flowfinity can work as a standalone platform, but most often it is integrated with an organization's existing back-end systems. This is key to creating a seamless user experience between business processes at the office and mobile devices in the field.
For LOB Executives:
Do It Yourself
Flowfinity's straightforward and intuitive software lets anyone from business analysts and managers to IT professionals create and maintain apps. If IT resources are constrained, you can create your own apps without IT resource involvement. Another option is to rely on Flowfinity Professional Services to create a custom solution quickly and effectively.
Less Paperwork, Spreadsheets and Headaches
Mobile solutions mean less paperwork and spreadsheets. Flowfinity customers benefit from reducing the delays and inaccuracies of using paper forms and spreadsheets in daily operations. To see how a large business can go paperless in 7 days, check out our case study blog post here.
Real-Time Information
See results when Flowfinity allows you to view real-time information collected in the field. Automate Flowfinity mobile apps to send you email updates on specific projects or activities. All of these features can by setup without the need of IT resources.
Get Back To Work Faster
Don't waste your time sitting around waiting for a solution to be created, coded, or installed; Flowfinity bypasses all these steps and efficiently sets you up for success with fast app creation, no coding, and instant updates across all platforms. Let Flowfinity help you get back to the work that matters, faster.
Cloud Deployment
Choosing a cloud-hosted solution means that the IT department does not have to install or manage the project, or dedicate IT servers and hardware to host it. Just login, create your apps and go.
Gone are the days of slow turnarounds, hours of coding, and delayed solutions. Codeless solutions like Flowfinity can bridge the gap between IT and line of business executives.
Start building enterprise mobile apps today.
Related Links
« Top 5 Mistakes Companies Make in Mobile App Development
How Engineering-Construction Firm Englobe Went Paperless in 7 Days »