Operational Intelligence Dashboards: Why it's time to rethink your BI solution
Apr 20, 2021, by Alex Puttonen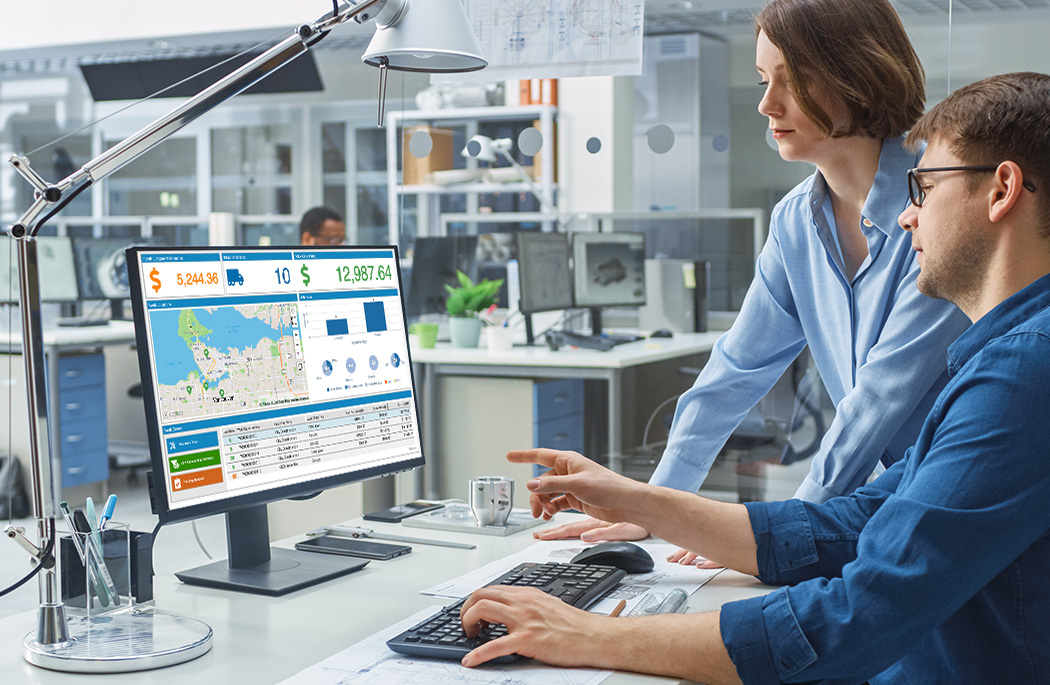 Overview
As field data collection has become increasingly digitized in recent years, the amount of data you can efficiently capture and store has grown exponentially. But how do you turn that data into insights that help you optimize operations and confidently take action?
We're increasingly leaving the spreadsheets, simple forms, and static reporting tools behind to embrace digital dashboards and operational intelligence reporting tools, but not all dashboards and visualizations are created equal.
When we discuss visualization options, we need to distinguish between traditional Business Intelligence (BI) tools and truly interactive operational intelligence (OI) dashboards. When we discuss BI, we are referring to software that integrates with internal and external systems to amass unstructured data. Those datasets are then analyzed, and data visualizations, such as charts and graphs, are created to help understand historical trends.
Operational Intelligence (OI) on the other hand is about driving the operations of your business through real-time visualizations fed by mobile data collection and Internet of Things (IoT) sensors to monitor work activity, asset status, and environmental conditions.
This is important because now you are informed to make decisions in response to live conditions in the field. Furthermore, location data is important, where the samples are taken, where your assets are and where the work is being performed, it is valuable to be able to view a GIS map you can customize with your own basemaps and features.
If you want to monitor assets in real-time and be able to respond quickly to trends and incidents as they evolve you need to adopt interactive Operational Intelligence dashboards that combine your data collection, structured database, GIS maps and workflows into one seamlessly integrated platform.
With a myriad of dashboard options available, we examine three key aspects to consider when implementing an interactive operational dashboard solution.
1. For accuracy and timeliness, dashboard data needs to come directly from operational data sources and be presented in a single source of truth.
2. Truly interactive dashboards allow you to launch workflows directly from the UI, not just view and manipulate static datasets.
3. You need the ability to report the right information on-demand to the right people in an intuitive interactive data visualiztion in real-time.
Ability to have a direct connection to data sources
Existing BI tools require you to integrate with your data sources, leading to latency issues, especially if your reporting tool pulls information at set intervals. This may be acceptable for dashboards that take a longer view for analysis and evaluation. However, if you need to see data in near real-time, you will find that most tools are not capable, or that querying your data source at frequent intervals is prohibitively expensive. This is why most BI platforms are not suitable for OI dashboarding.
When your OI dashboarding solution is built into your central database, fed by your data collection apps and IoT sensors in one unified system, these challenges are avoided. Your reporting is always connected to your data, and it's easy to visualize not just higher-level KPIs but your transactional and operational performance data in real-time.
When you have a unified system, you know exactly what's going on and where your assets are from a single source of truth, without latency and with reduced opportunity for errors, data duplication, and security concerns. If your data has a geospatial component, as most site inspection and asset management data does, modern solutions exist to host custom maps directly in dashboards to keep your systems GIS-centric.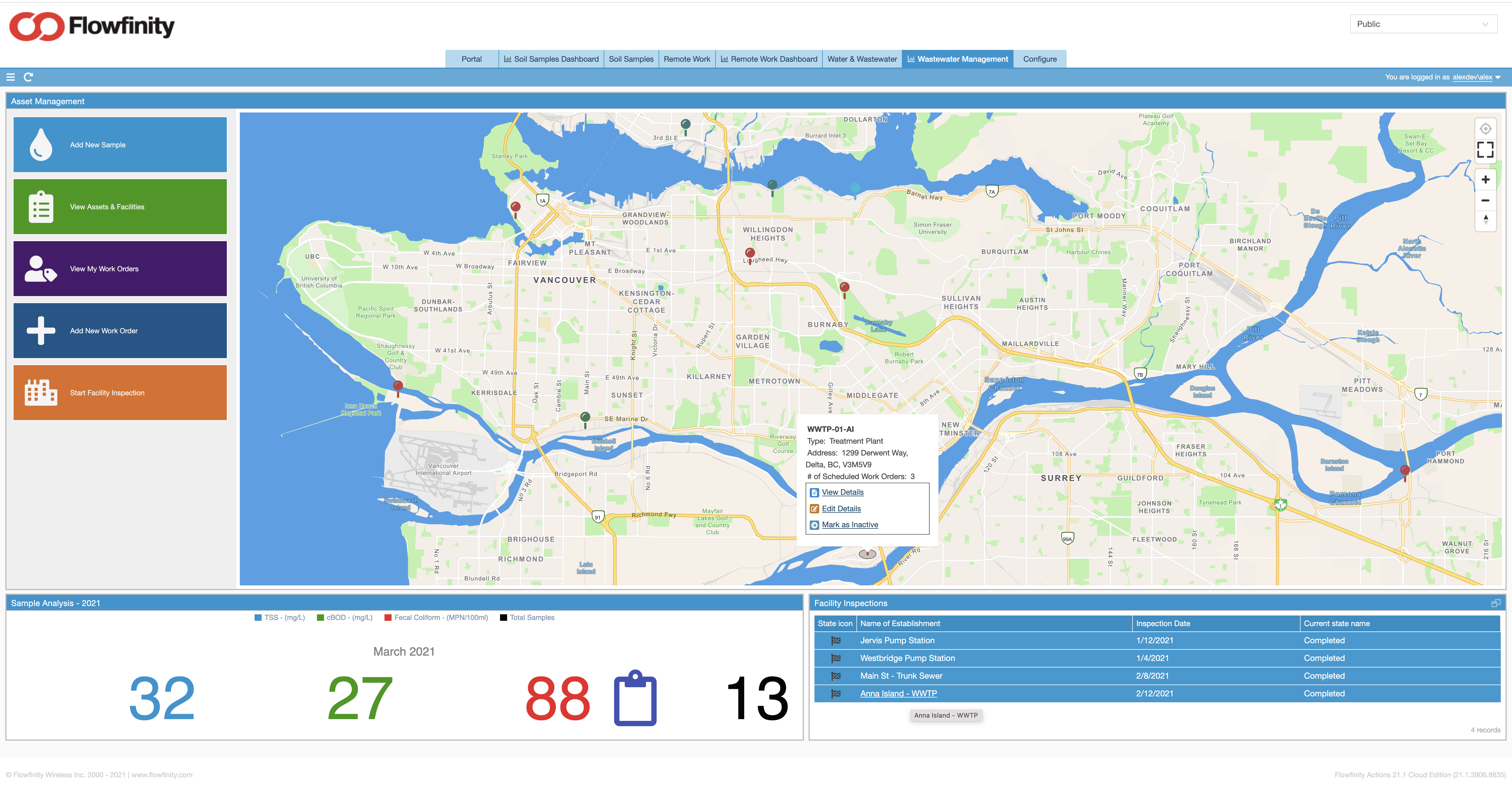 Deploying a unified system may sound daunting when you take into account the various components you'll need in your technology stack:
Data collection apps and forms accessible from web and mobile
A central database configured to store your structured data
Software robots to perform tasks and escalations
Custom validation rules to ensure data accuracy
Reporting dashboards that graphically display your data
Support for geospatial mapping and GPS locations
Integrations and code to tie it all together
Fortunately, you can now get all of these technologies included in one platform to ensure crucial project information is accurate at the source and available in real-time. Flowfinity combines rich data collection, an open SQL database, automated digital workflows, custom validation rules, and interactive dashboards supporting GIS map hosting, and you can configure it all without code to manage any project or process.
Once you determine what assets and KPIs you need to monitor and report, you can deploy a complete system for data collection and reporting without having to code or source and integrate multiple off-the-shelf software solutions.
Your custom unified solution will provide a secure single source of truth, leveraging inbuilt dashboards that provide excellent analytics right out of the box while allowing you to access operational insights in real-time.
Now line of business staff can monitor events, projects, and asset status to ensure day-to-day operations are running smoothly without switching between platforms.
Ability to launch processes directly from the dashboard UI
Standard BI tools allow you to aggregate data and display it as visual information. However, they often limit you to viewing data in a static environment. You can filter through data to focus on specific KPIs or drill down to view an additional variable or access a nested parameter, but the data is essentially read-only.
This is because although traditional BI dashboards act as a useful display, they are pulling data one way from your sources into the dashboard application. You can view or manipulate the datasets, but to act on that data, you will have to access some other system. Since the data flow is only one way, you can't launch business processes directly from your visualizations.
When we describe Flowfinity dashboards as interactive, we don't just mean that you can manipulate data sets, drill down to uncover more details, and toggle through different chart and graph types. Of course, you can do all those things, but you can also launch corrective actions directly from the dashboard UI to turn insight into action and respond immediately to changing trends or emergencies.
Flowfinity dashboards are a game-changer because your records are tied directly to your database and applications in a two-way configuration, meaning you can also add or edit records, launch workflows, and action notifications directly from your widgets.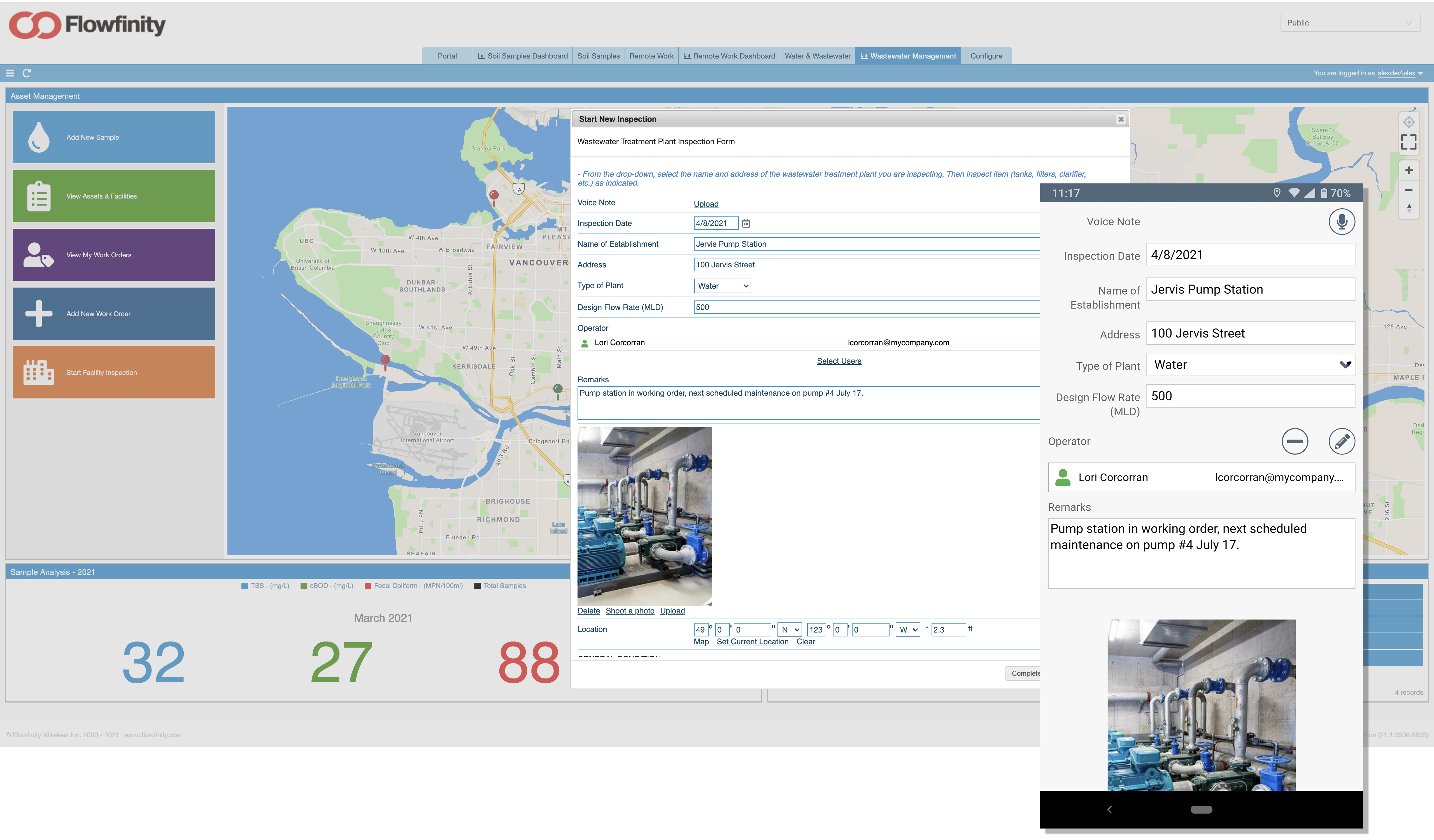 For example, let's say that you have a project comprised of a series of construction subprojects located at different locations across your region.
Using traditional dashboards, you're able to see which assets are deployed to which sites and get a snapshot of job progress for each site or the cumulative project. If your dashboard has a GIS mapping component, you may be able to plot GPS coordinates and pull up feature attributes on your map such as job sites and related infrastructure.
If you were using a truly interactive OI dashboard, once you saw a project was falling behind, you could click on a polygon object on your map that represented the site or an asset in its proper geographic location and pull up the full record details. You can quickly analyze your operations and discover that the subproject is stalled because a piece of equipment is not functioning properly and needs maintenance.
With a couple of clicks on your map or custom buttons, you can assign a technician to perform the maintenance. This will update the record and initiate a new workflow with an automated notification, including the location information and instructions to complete the job. With another click, you can redeploy equipment from another nearby site to bridge the gap and maintain productivity.
This is transformational to your operations because instead of just viewing information and GIS feature attributes, you can interact with them directly. No more writing lengthy emails that don't get read or playing phone tag with managers on site. Resolve situations immediately while ensuring a digital audit trail is in place that is reliable, traceable, and updated for both field and office staff in real-time.
Although it's a powerful feature, you don't need GIS maps to enjoy this functionality of interactive dashboards with two-way data. The same is true for any record in your system. Simply drill down into your dataset and make any changes or launch any workflow that you've customized for your specific use case.
Ability to report operational performance in real time
We've described the benefits of Operational Intelligence dashboards, which allow for two-way access to your field data so you can monitor assets and launch workflows. These are great for your internal teams, but what about reporting to external stakeholders such as clients, suppliers, or contractors?
Flowfinity dashboards are unique because you can create and customize unlimited dashboards to report to different audiences, providing only access to information and functionality that you want to allow. Therefore, you can easily create informational dashboards to provide real-time reporting to stakeholders from outside your organization with read-only authorizations.
Provide on-demand access to these dashboards using unique tokens that allow temporary access to your system without having to pay for a permanent Flowfinity account. Delivered as a web link, one click on the token provides the recipient with instant access to a dashboard configured for their needs. You also control a time or usage limit to ensure security.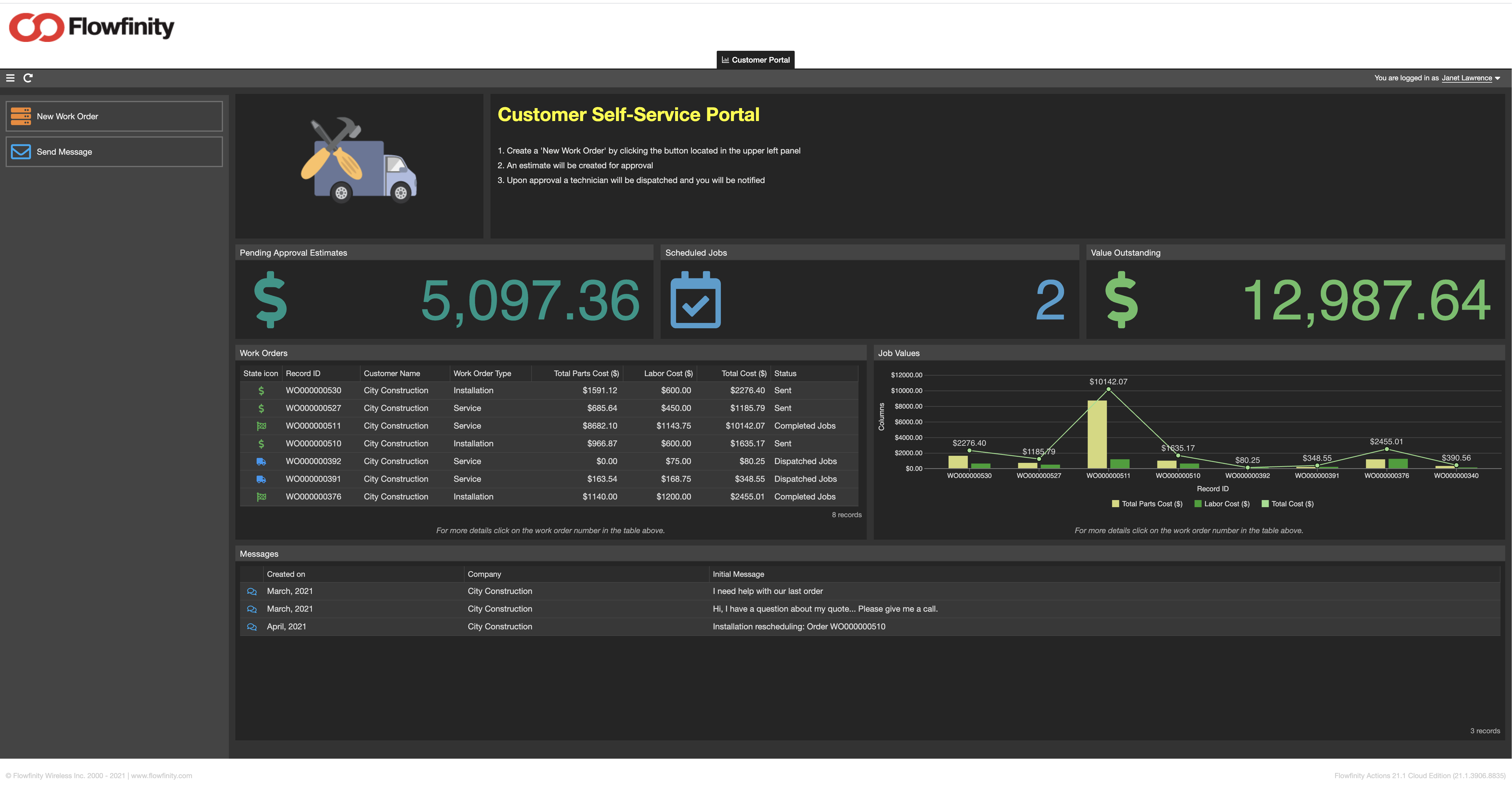 While you can limit your external stakeholders to view data only for reporting purposes, you don't have to. The power of interactive dashboards is that you can interact with them! Your external dashboards could include buttons to allow clients to request new work, or contactors to verify job completion and details, or you can provide a way for suppliers to send you alerts when supplies are low.
Surveys are another common use case for dashboards and tokens, as recipients can contribute their responses to your questions directly from a dashboard and then can see the live results. In a way, we are turning the process on its head asnow your dashboard is acting as your data collection tool! That's the power of 2-way information flow from a centralized database using a unified system.
Interactive OI dashboards with access on-demand allow you to create self-service client-facing portals that provide actionable information to external stakeholders and a powerful way to extend business process participation to a wider audience.
Conclusion
The emergence of digital data collection has revolutionized field services, asset management, and any industry that requires accurate data and reliable reporting.
Now you can go beyond static reporting limited by the one-way nature of traditional BI tools. You can not only view information and GIS feature attributes; you can also turn field observations into instantly actionable information so you can move projects smoothly from data collection to final report with a solution that ensures ROI. This is what makes Flowfinity the ideal Operational Intelligence dashboarding tool.
Flowfinity dashboards and data collection applications reduce project risk by eliminating recording errors and reporting bottlenecks while making operations more efficient and information more reliable. Your mission-critical data is secured in a single source of truth that you can share with internal or external audiences on-demand with custom permissions for relevance and security.
All of this can be quickly and economically configured into a streamlined unified solution without the need to integrate multiple software platforms or write any complex code.
About Flowfinity
At Flowfinity, we love to help people build business process management applications that drive digital transformation. We feel a sense of pride and satisfaction every time one of our clients clicks 'publish' using our no-code tools.
Our mission is to speed the success of organizations in all industries by digitally reimagining core business processes leveraging no-code application configuration.
The Flowfinity platform combines a web-based app editor with a cloud-based SQL database and truly interactive customizable dashboards that empower you to turn insight into action. Promote smarter, faster decision-making with real-time data.
For more information and assistance with deploying interactive dashboards, contact Flowfinity for a demonstration and complimentary consultation.
Don't forget to share this post!