Field Services Revolution – 11 Best Practices for Achieving Digital Transformation
Sept 12, 2019, by Sean King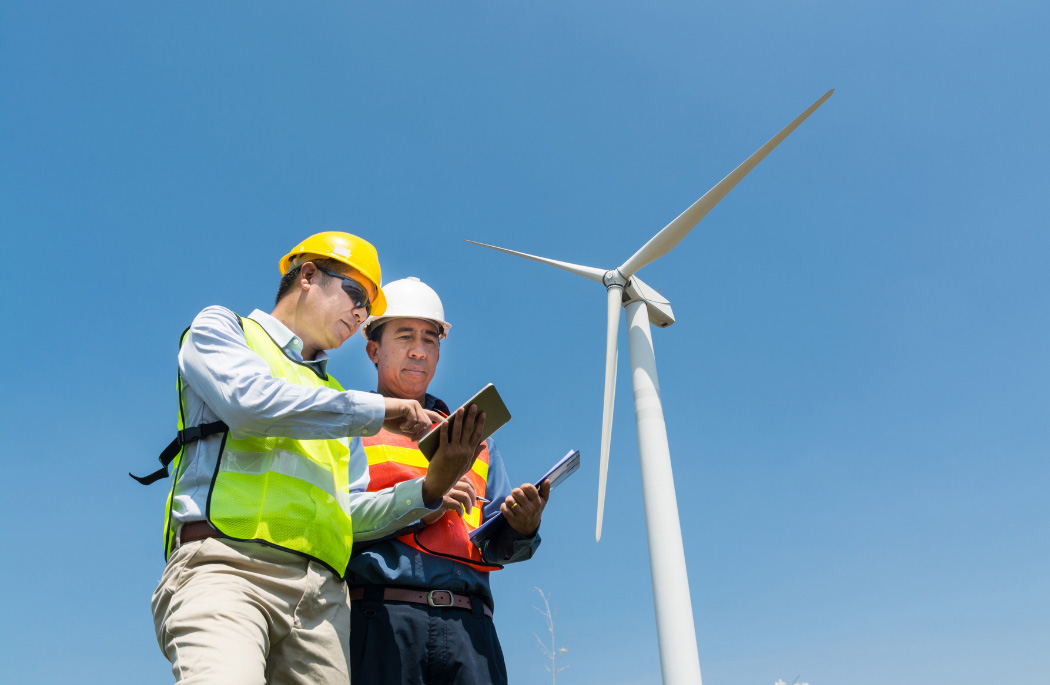 Improving workflow process efficiency for field staff is a constant concern for any forward-thinking manager of a mobile workforce.
Background
Steady technological change has improved many aspects of field service delivery, allowing for increased efficiency in many areas. Now with the rise of no-code application configuration, any manager can create advanced custom mobile data collection apps with process automations and real-time dashboard reporting. These developments mean field service management is now poised for rapid digital transformation, and there are opportunities to achieve competitive advantage by embracing these new tools.
Instead of optimizing existing processes, new technology offers field service managers the opportunity to revolutionize their operations completely.
We've identified some best practices to help you increase ROI, optimize your business processes, and achieve meaningful digital transformation.
1. Increase your business agility
While some business processes are static, with data collection requirements and workflows that remain fixed, most organizations have malleable processes. Workflows are often dependent on the types of data that can be collected, or the business processes gradually evolve. Leveraging configurable business apps allows organizations to make quick changes to data collection forms or workflows and push these changes out instantly to all users.
Adapting to client needs or empowering business analysts to streamline workflows won't cause IT disruption, as solutions can be developed quickly and with no code!
2. Standardize and streamline data entry
Field service managers can create mobile apps that reduce errors and omissions during data collection. Instead of relying on paper forms or spreadsheets, digital apps use conditional data fields, formulas, and layouts to ensure an efficient and accurate data capture process.
Paper forms may ask field technicians to remember instructions or logic on the go, leaving room for error. Eliminate this possibility with a web form that guides users through all necessary steps, with all conditions and logic baked into the design.
3. Eliminate data re-entry
Many business workflows become bogged down with time-consuming data entry. This is particularly inefficient when work undertaken in the field must be transcribed and re-entered into business systems when back in the office.
Configurable business apps offer a quick and efficient solution for data collection, removing the need for transcription or manual data re-entry. Field data recorded in a mobile application will be transmitted instantly to a central server or stored on the device until a connection is available, reducing time spent on tedious data re-entry and freeing staff time to perform more meaningful work.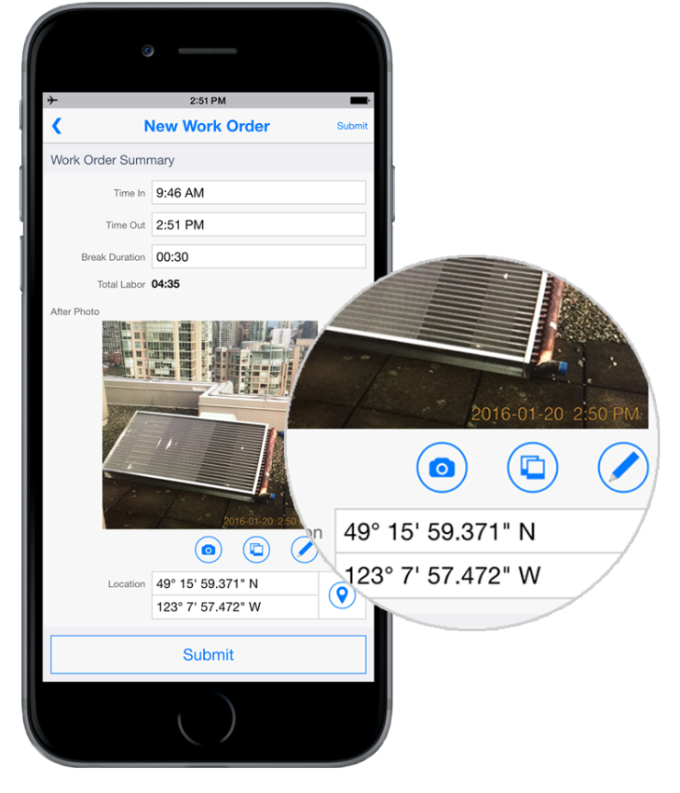 4. Capture rich data accurately
Highly specialized personnel in various industries perform field data collection. For example, an environmental scientist may require high-precision GPS readings to be taken with specialized equipment to capture the necessary level of detail for an accurate site survey. However, if this requires the reading to be transcribed between two devices, then the risk of a costly error increases and the data collection process becomes slower.
The solution is to embrace configurable applications that integrate with external devices, recording rich data accurately and automatically.
Rich data is not limited to GPS readings, images with annotations or audio can be extremely helpful during field inspections. For example, the same environmental scientist may also require high-quality photographs with annotations to be made in the field to accurately mark a point of potential concern, or record a voice note to remember specific characteristics of a worksite. Again, the solution is to embrace mobile forms that support rich data capture as it reduces errors and improves productivity.
5. Centralize data storage
Ensuring data is secure, adequately backed up, and accurate is vital for every organization in the current technological and regulatory environment. Outdated or insecure systems can lead to data duplication or data loss, and in an organization where workers are accessing systems remotely the risk is increased. The solution for field service teams is to adopt a backend SQL relational database and benefit from robust, flexible, and high-performance data management.
Data should be stored in a single database, providing both transactional integrity and centralized backup capability for the whole system. This also greatly improves efficiency as organizations no longer must rely on a tangled web of paper forms, spreadsheets, and device-based data to collect, process, and report on their data.
Adopt standardized data entry forms, rich data capture, and a centralized database to improve the overall efficiency of your field service processes and ensure greater data integrity.
6. Create audit trails
If a workflow must comply with regulations, ensure that your applications record all required information alongside a centralized audit trail for every action taken.
Capture e-signatures from clients, record time, system users, and GPS locations when moving records through the workflow. Every action is recorded so that compliance can be ensured, managers can resolve customer service issues accurately, and accountability is maintained.
7. Automate notifications
Leverage automated notifications in your workflows to improve operational efficiency and improve customer service levels.
Automated notifications will notify workers of new jobs on the go, update customers when a job is started, or contact stakeholders instantly if further action is required. This maintains lines of communication between internal stakeholders and customers, allowing organizations to ensure higher productivity and better customer experience.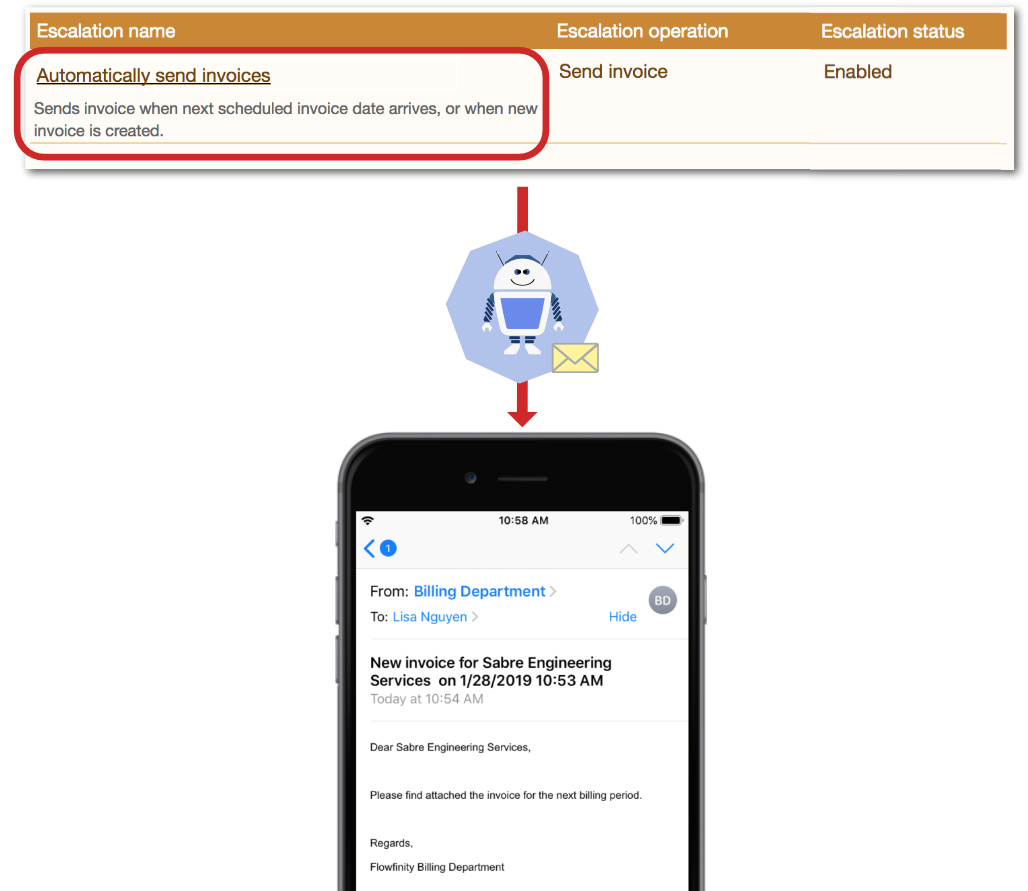 8. Automate simple tasks
Increase your efficiency by leveraging software robots to perform rules-based business tasks, allowing workers to focus on higher-value work. Automation can greatly streamline your business processes, allowing for greatly increased productivity.
For example, an organization with a high volume of work orders can configure a software robot to execute work order dispatch. Simply define the rules that underpin the workflow and software robots will execute the required tasks as soon as these rules are met. This improves the speed of workflows, and ensure tasks are never missed due to human absence or error.
By leveraging configurable software robots, rather than coding automations, you can remain responsive and agile. Changes to your business processes don't wreck your automation. Simply configure new rules with a few clicks, and the software robots will continue to work.
9. Assign complex tasks and escalations to software robots
Leverage automation to perform more complex or periodic tasks. For example, software robots can monitor vast amounts of records within one or more applications, then act when configured rules are triggered. This can almost entirely automate a business task such as monitoring and escalating SLA compliance.
Using this example, consider the existing workflow for monitoring outstanding customer requests and ensuring SLA compliance. An employee must actively monitor outstanding requests and remember to act on time, every time.
By utilizing software robots, you can perform this same workflow in a non-invasive and more reliable way. Configure the robot to 'flag' a record that risks breaching the SLA and any record that meets those conditions will be transitioned in an 'urgent' state and escalated to an appropriate supervisor to resolve. Your robots are on the job 24/7 and will never accidentally miss a ticket that needs urgent attention.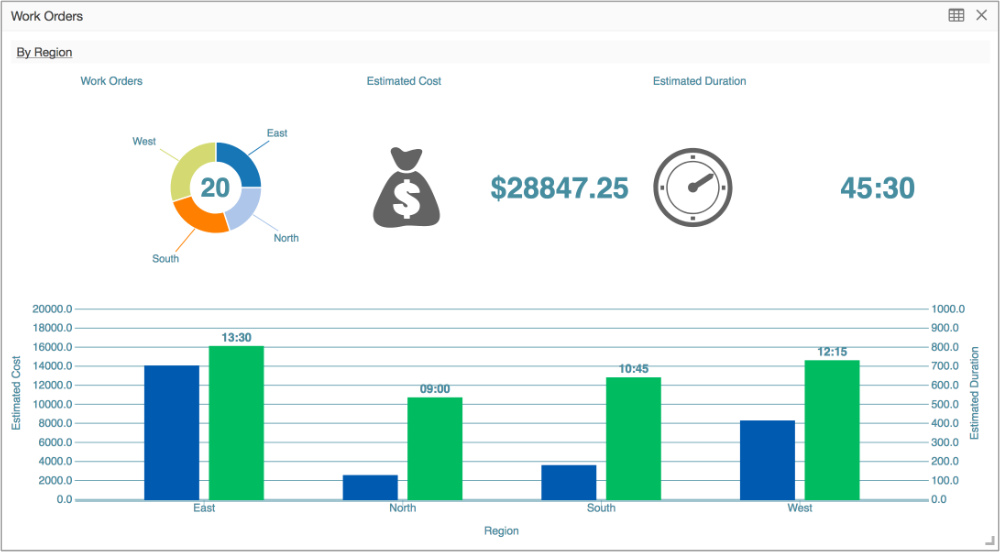 10. Visualize operations with interactive dashboards
Successful field service management requires a real-time understanding of where your team and assets are to optimize resources and make informed decisions quickly. Adopting interactive dashboards, drawn from a centralized dataset, helps this process of constant improvement, by presenting real-time organizational data in an intuitive and flexible way.
Managers can configure dashboards to view real-time operations, aiding reporting and analysis. Real-time dashboards also help managers to spot exceptions and opportunities promptly. This allows an organization to become more responsive, reallocating resources to improve performance before issues arise.
To add next-level functionality, apply filters to your dashboards, such as geographic regions or workflow states that provide even more refined information. Or configure drill-downs, whereby individual records can be examined directly from the dashboard.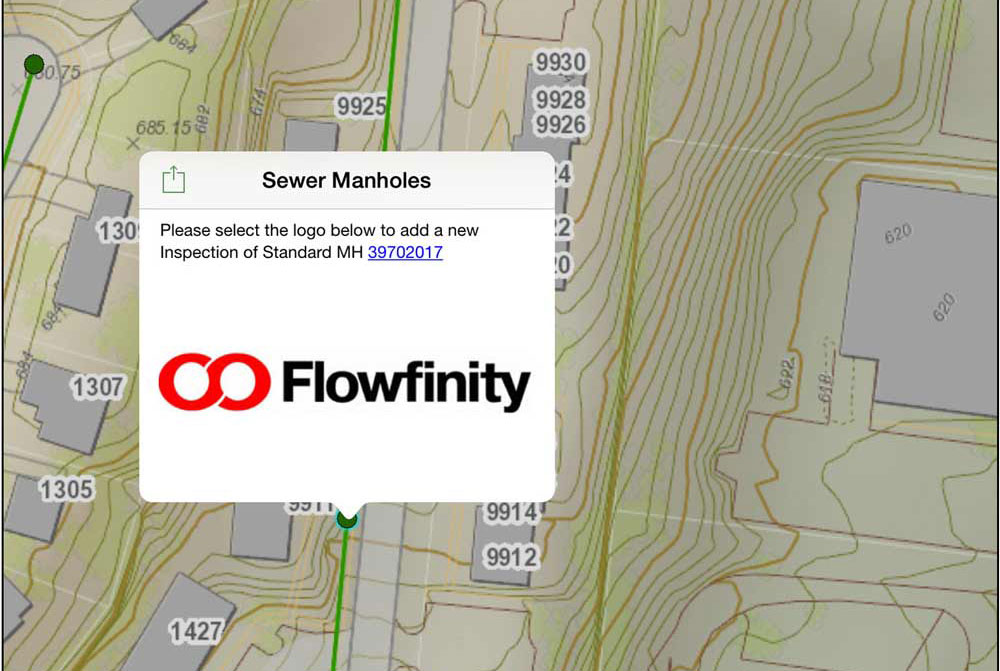 11. Mapping
For many organizations, fieldwork is essential, and GIS software plays a vital role in their operations. It's important for organizations, such as environmental consultancies, to deploy solutions that can integrate business process management solutions with specialist mapping software.
For example, a firm with workers that inspects assets in the field can integrate GIS data with their business applications, generating actions in their business apps straight from the GIS software. This allows field workers to transition seamlessly between two vital applications, in the field and ensures data integrity by updating both apps simultaneously.
These best practices are just a few examples of how to maximize ROI in industries that require field service management. Here are some success stories from our customers who perform field service work:
City of Cincinnati – 'Flowfinity is a valuable tool to guide our field employees through complicated solutions so they make the right decisions, take appropriate action, and document activities completely and consistently.'
Hemmera – Leverages Flowfinity to streamline field data collection and integrate directly with other systems in use including Esri's ArcGIS software.
Centra Windows – Automates job costing, schedules installation crews, and manages manufacturing and inventory using Flowfinity.
Don't forget to share this post!