How to Create Business Workflow Applications Without Code
Aug 02, 2017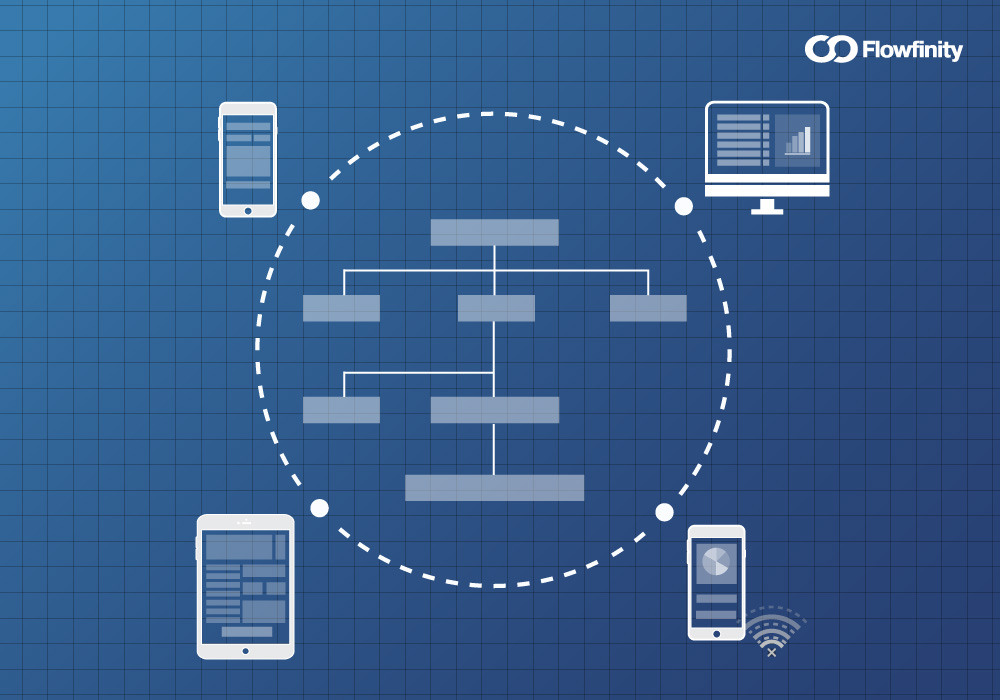 Traditionally, business processes have been managed with paper forms. While paper has been slowly becoming extinct within the office, it has remained the preferred medium for workers in the field due to its simplicity. As paper forms continue to be replaced with spreadsheets and simple mobile apps to manage business processes, it is important to understand that replacing paper forms with an electronic equivalent does not address the workflow. It merely just changes the form medium. To properly automate business processes with a mobile application, workflow capabilities are required.
Flowfinity was built from the ground up as a workflow-enabled, forms-driven process automation system. There are 4 key components - states, operations, layouts and validation - involved in transforming your business workflows with applications built with Flowfinity's point-and-click editor.
States
States in Flowfinity are used to represent different steps in business workflows. You can create as many states as needed for your workflows. For example, an "Assigned" state can represent work orders already assigned to a field technician, and an "Approved" state can represent records that have been approved by the manager. You can easily find out how far along each record is in within the business workflow.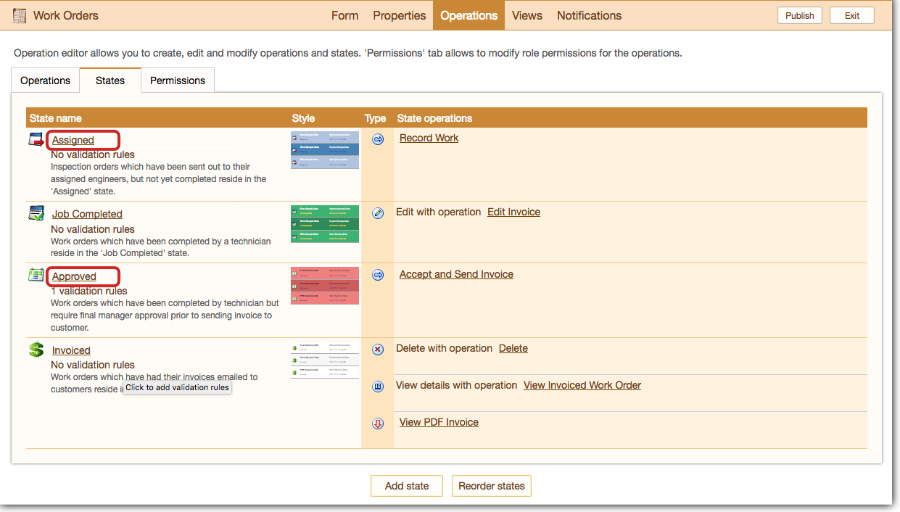 Each record in Flowfinity applications can be in one of the states you defined in the application editor.
Operations
States also control which actions, called "operations" in Flowfinity, are available for the records in that state. For example, you could create an operation to accept or reject an "Assigned" job, or prevent users from being able to delete an "Approved" job.
Flowfinity makes it easy for the application builder to declare which operations are available at each step in the workflow.
You can move records between states using a "Transition" operation. When creating these operations, you specify not only which states they are available in, but also which state the record should transition into after the operation has been executed. Transitions can jump into any state.

Layouts
Another important component of designing workflows is the ability to control which form fields are accessible in each workflow state. With Flowfinity, this is done using the layouts feature.
Each operation specifies which layout is used for the operation. Once you design the form fields, you can map each field to each layout with multiple parameters. Choose whether a field should be included in the operation that is using the layout, and whether it should be visible or hidden, and editable or read-only. If you select a field to be editable, you can even make it mandatory. Furthermore, these mappings can be made dynamic using conditions. This allows a field to have multiple behaviours, depending on the inputted data from other fields of the form.

When accessing records with views, you can filter records by their state. For example, you can create a simple filter that will only show "Approved" or "Assigned" records. Both views and operations have permissions, so you can control which users have access to various parts of workflow based on their role membership.
Validation
You can also customize states in Flowfinity to contain validation rules, which means every record must meet a set of conditions before entering a certain state. For example, you can make the "Customer Signature" field mandatory to ensure the user has obtained the customer's signoff, before the form can transition into "Job Completed" state. These validation rules can also involve complex conditions that span over multiple fields.
By combining states, operations, layouts and validation, you can design flexible mobile applications that fully track your business processes workflows. Flowfinity not only lets you go paperless, but can completely meet every workflow need to help drive your business.
To learn more about Flowfinity's flexible software, and test out these powerful workflow features yourself, start a free trial today.
Transform your business with mobile apps.
« Manage Business Information on Mobile Devices with Data Filtering
Flowfinity 101: Easy-to-Build Mobile Apps That Work Offline »