Flowfinity Announces Customer Portals for Enterprise Mobile App Solutions
Latest Flowfinity Actions product release delivers self-service capabilities to enhance the customer experience
VANCOUVER, British Columbia, Apr. 30, 2014 - Flowfinity Wireless Inc. today announced the latest version of Flowfinity Actions enterprise mobile app software, which introduces customer portals and enhances the flexibility of managing users and data.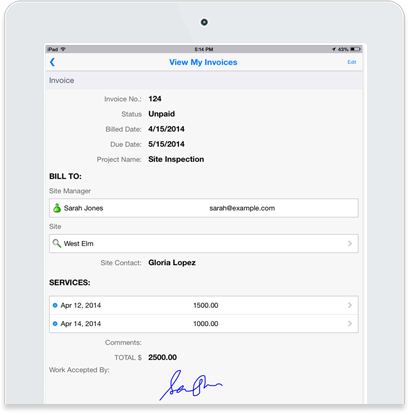 Organizations can now let their customers log in to Flowfinity directly for self-service capabilities such as service requests, information updates, document access, or viewing of past and scheduled services. Providing direct customer access to this real-time business process management system reduces internal processing costs while improving transparency and accountability.
Customer portal access is available through the web or the Flowfinity mobile client that customers can install for free from the Apple App Store, Windows Phone Store, or Google Play. With support for two-way mobile transactions, portal tasks such as searching for information or submitting requests can be accomplished whenever, wherever needed.
"We are excited to offer a new capability that lets organizations extend Flowfinity to their customers through self-service portals," says Larry Wilson, VP of Sales and Marketing, Flowfinity. "Now companies using Flowfinity can strengthen customer relationships even further by offering more control and real-time access to information from the field."
Flowfinity is used by organizations around the world for replacing inefficient paper and spreadsheet processes including surveys, inspections, and work orders with mobile apps.
To learn more about Flowfinity customer portals, visit https://www.flowfinity.com/solutions/portals.aspx.
About Flowfinity
Flowfinity provides a proven, fully customizable solution for building enterprise mobile apps without programming. Since 2000, Flowfinity has helped leading companies across industries improve productivity, engage management, and improve business insight through all areas of the organization. By making it easy and fast to mobilize day-to-day business processes on smartphones and tablets, Flowfinity enables mobile teams to access, survey, report, and share information when and where they need to. Top global brands in consumer goods and other industries rely on Flowfinity software as the standard technology for automating critical business processes. For more information, visit https://www.flowfinity.com
Back to List