Managing Users and Roles
Your 14-day Flowfinity trial includes 10 user licenses. Follow the instructions below to learn how to manage users and add other members of your team to your trial system.
Instructions
Login to https://try.flowfinity.com from your web browser.
Create a New User
To add a new user, ensure that the Public Site is selected from the Site drop-down menu. Select the Configure tab and click the 'Add User' link.
Please note that new users must be created in the Public Site first. After they are created, you can grant user access to other Sites.

Enter the user's full name, email and username, and set the password. The user has the option to reset their password later through the change password link on the login screen. Click the 'Apply and Next' button.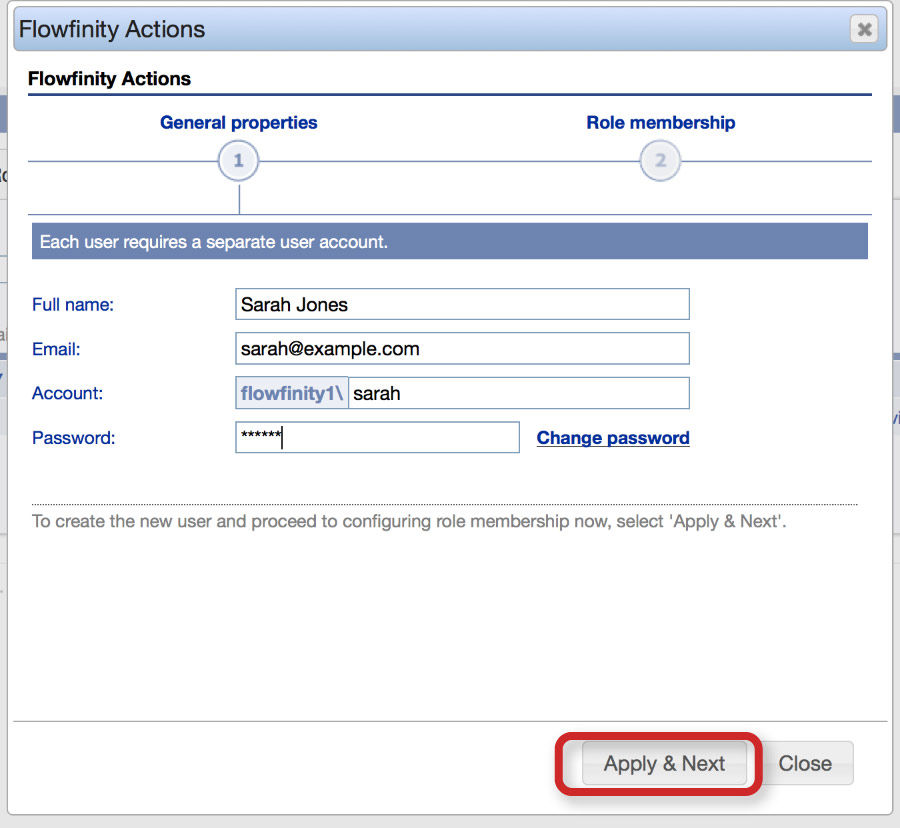 Select the appropriate user role settings for the Public site, and click the 'Finish' button.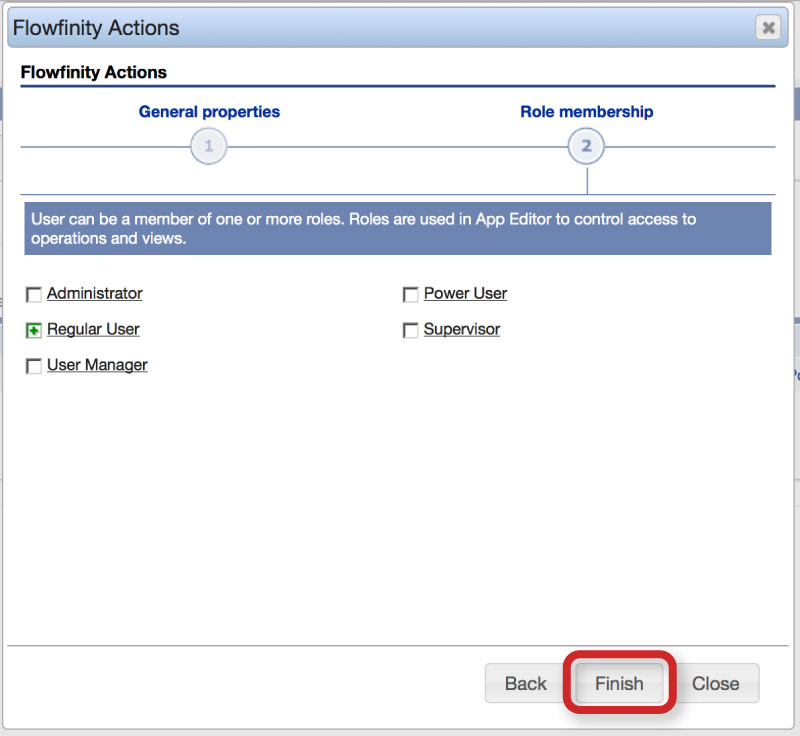 Grant User Access to Other Sites
Once a user has been added at the Public level, you can grant the user access to other Sites.
Select the appropriate Site from the drop-down menu, click on the Configure tab and select 'Users' from the menu. Click 'Add other users'.

Select the roles that the user should belong to in this Site. In Flowfinity, roles are used to manage which information and activities are available to different users, for example management and field staff. How roles are used varies from application to application. To grant user access to all of the demo app functionality, select every role.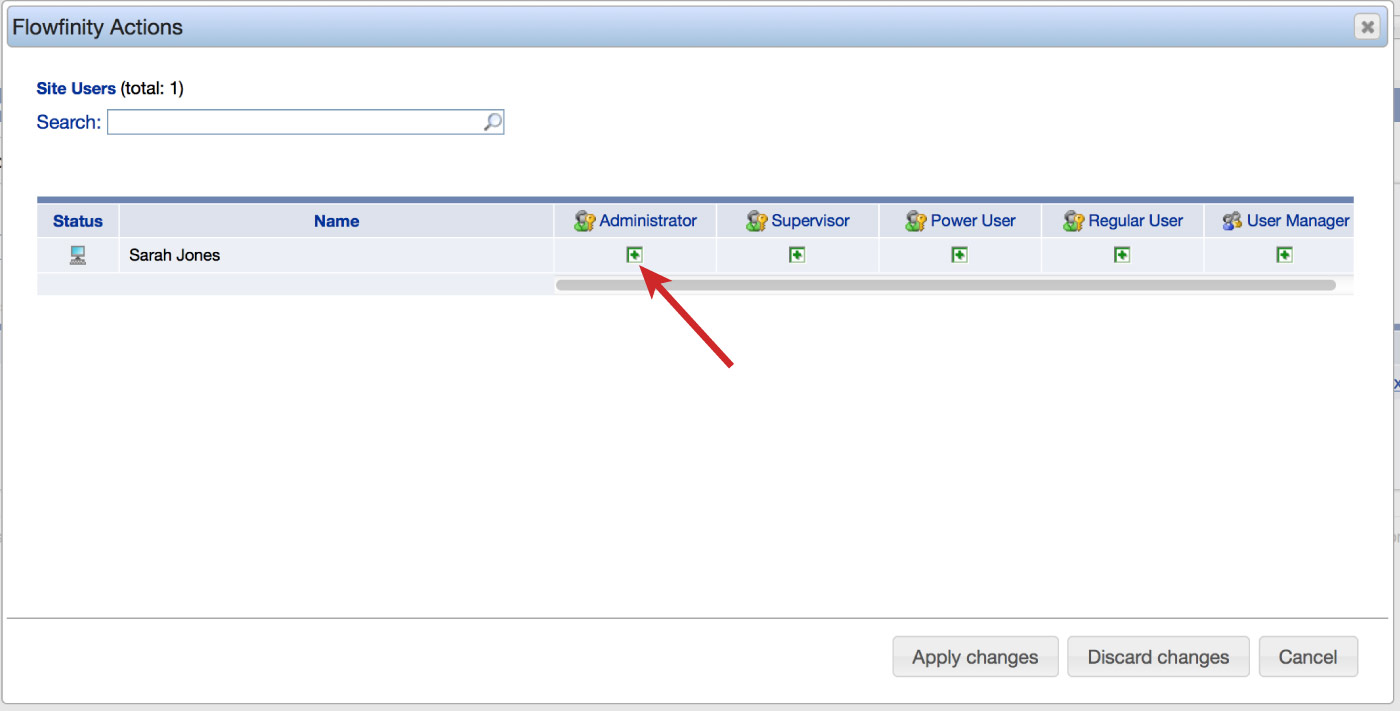 Update Role and Site Membership
If you wish to change the user's roles in a Site, select the Site in the drop-down menu. Click the Configure tab, and select 'Users' from the menu. Click on the user and select 'Edit Role Membership.'

Add or remove roles, then click the 'Save' button.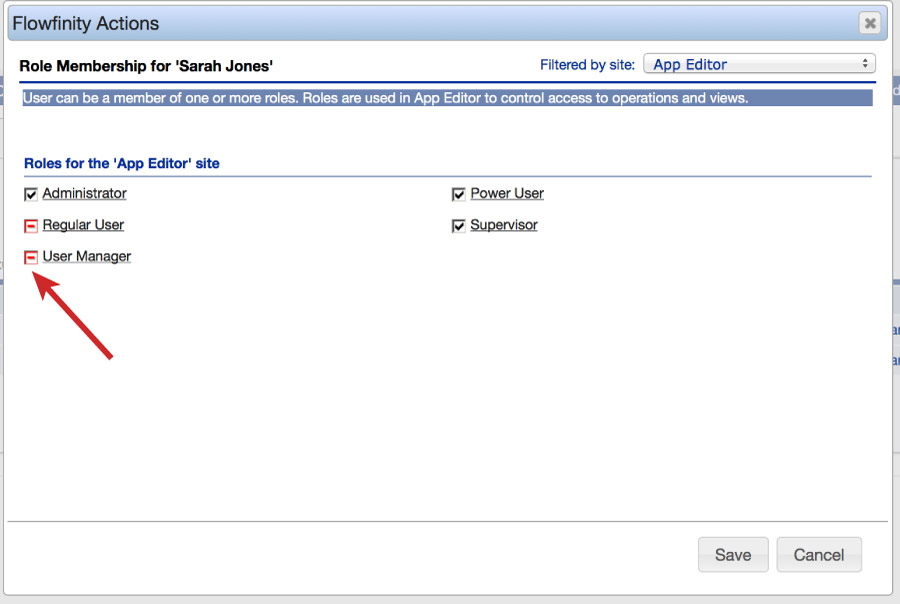 To remove user access from a Site completely, select 'Revoke Site Membership' from the user menu.
Removing Users from Flowfinity
If a user no longer needs to access any apps in Flowfinity, you can select 'Disable user' from the user menu. This feature ensures that any records containing data about that user are retained in the database, but frees the license for use by another team member.

It is also possible to delete users in the Public site. However, this removes the user information from the system including any user associations with existing records.
Once you've finished setting up users for your trial, please send the users their login information and instructions for downloading the Flowfinity mobile client.
If you have any questions about user management please contact us.