Remote Work Bundle
This Remote Work Bundle is designed to help you quickly deploy custom applications to create and sustain remote work solutions. The bundle includes application and dashboard templates intended to support collaboration between team members working remotely with minimal disruption to operations while keeping your employees safe.
The bundle includes six applications and a dashboard that can be quickly deployed and easily customized to fit your operational needs.
The applications demonstrate a wide range of Flowfinity Actions functionality, including automations executed by software robots and geographic maps.
Complimentary remote work app templates are included in your trial
Get Started
Applications included in this bundle are:
1. Company Bulletin
Organizes updates and messages in a custom newsroom about new sales, awards and accolades, policy revisions, emergency procedures, and more.
Add new bulletins and send company-wide updates with email notifications
Include useful attachments, images, and links
Control who can add and delete company-wide bulletins using permissions

2. Document Library
Provides a central storage repository for job aids including guides, presentations, manuals, and more. The app assists in version control, and helps employees go paperless during remote work.
View all active and archived documents
Search by document type (HR, Health & Safety, Audit and Regulatory, etc.)
Choose to notify employees when documents are added or amended
Control who can add, amend, and distribute documents using permissions

3. Current Availability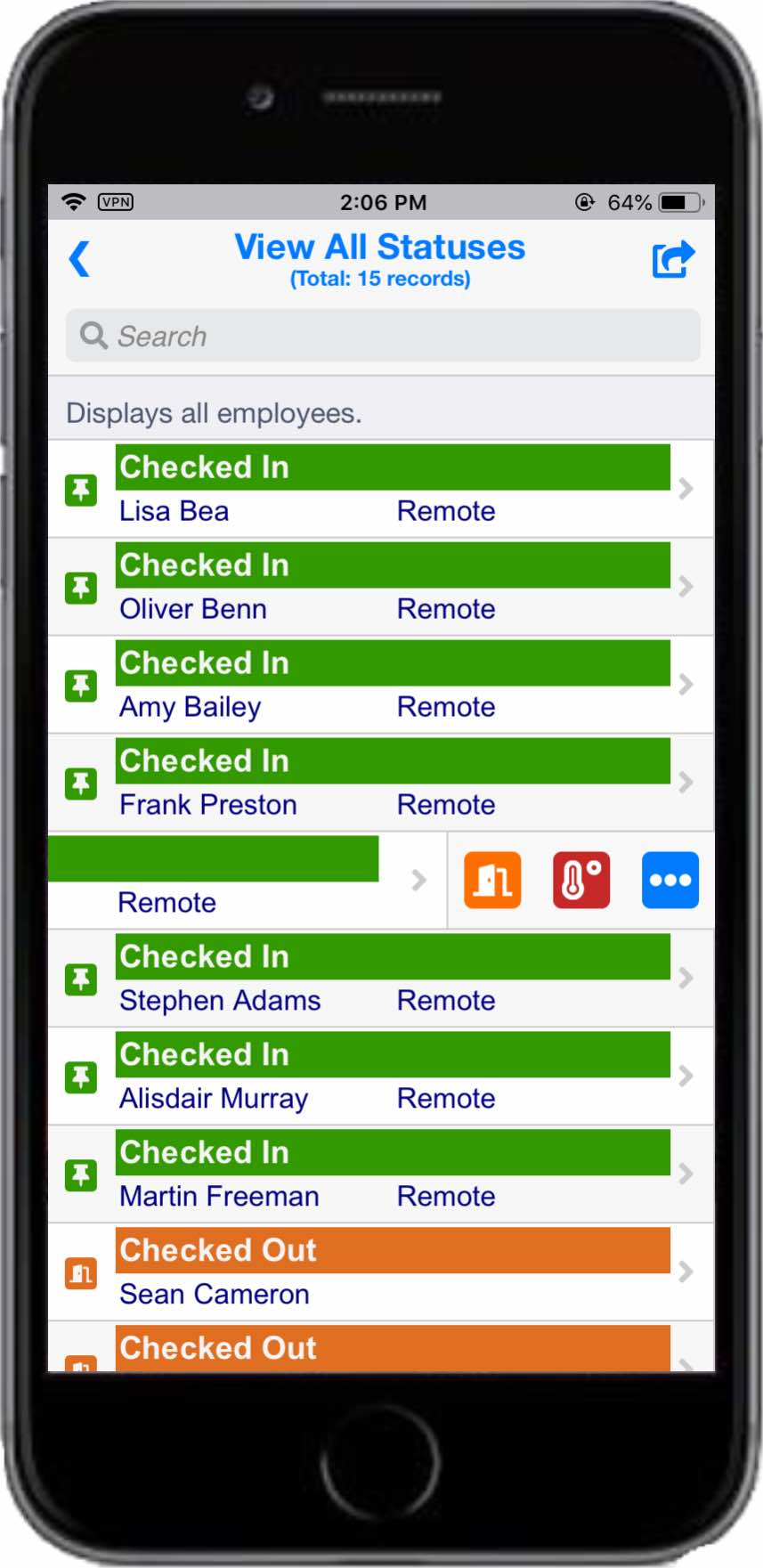 Allows remote employees to easily self-report their health and work status by providing an overview of staffing levels and facilitating staggered working arrangements.
Employees checking into work at the office or worksite are asked additional occupational health and safety questions, helping to ensure compliance with safety procedures.
Quickly view real-time statuses (Checked-In, Checked-Out, Medical Leave) and anticipated return date/time
Communicate work location (office, remote, worksite) with captured GPS coordinates
Identify workforce capacity for meeting time-sensitive projects
4. Projects List
Provides a master list of all planned, ongoing, and completed projects for easy review and management. This app is connected to the Task Management app to optimize task scheduling.
Add tasks associated with each project and reference these records in the connected Task Management app using a lookup
Easily spot which projects are launched or delayed
Track current project progress in a central location
The Projects List application uses validation rules to ensure that projects with outstanding tasks cannot be closed until all work is complete.

5. Task Management
Displays a master list of all tasks so you can assign, view, and monitor the progress of every task associated with each project in the Project List app.
The Task Management and Project List applications are linked by a software robot that automates recording entries to reduce manual data entry when new tasks are created.
Assign or reassign tasks to different employees as necessary
Add updates and draft documents to share progress
Move tasks through a workflow, from planned to in progress then complete
The software robot automates two tasks and one escalation within this app:
When a new task is created, the robot automatically duplicates this information into the appropriate project in the Project List app
As individual tasks are completed, a software robot will automatically update this information in the appropriate project in the Projects List app
When a record becomes overdue, an escalation will mark this task as overdue and will send an automatic email notification.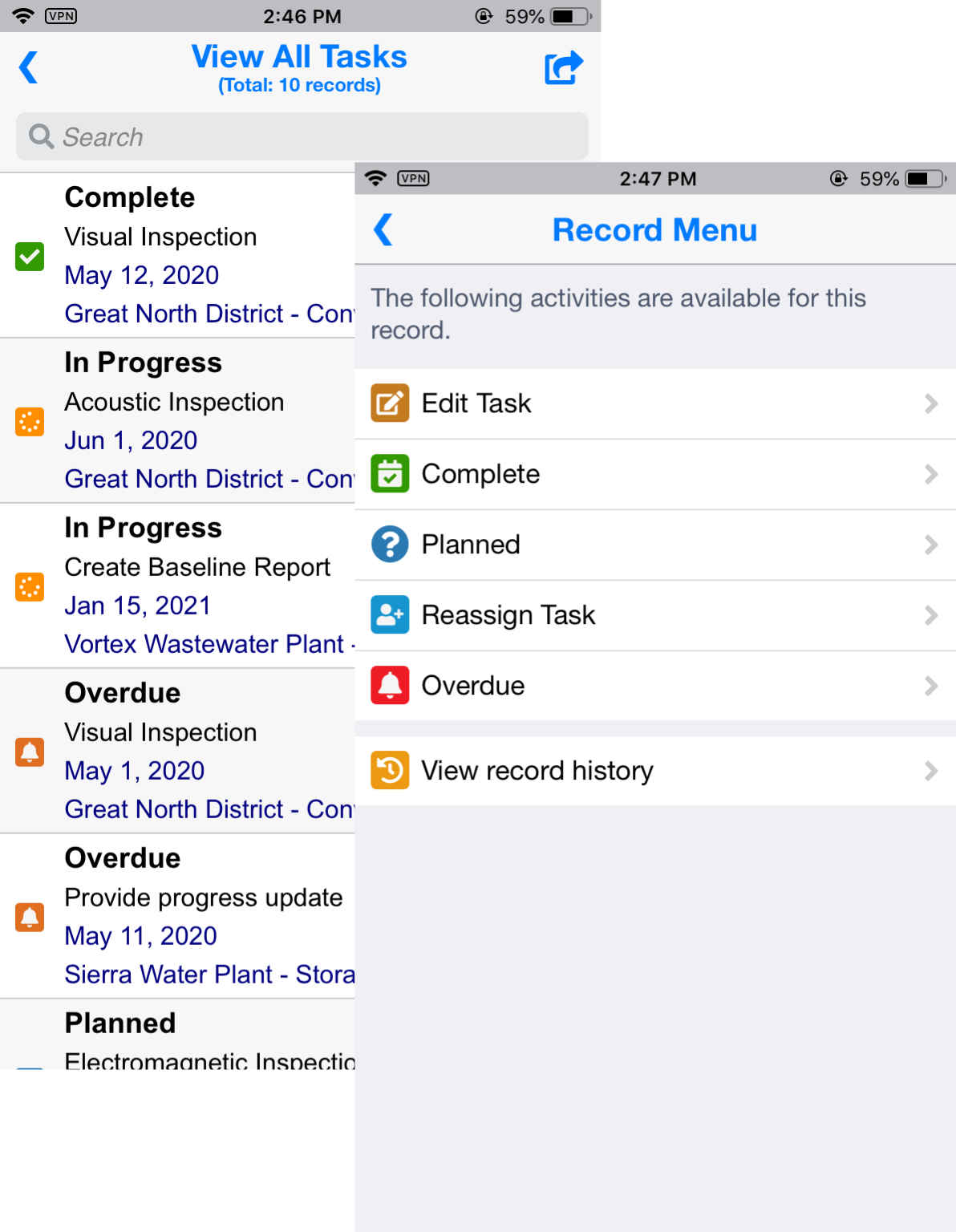 6. Time Sheets
Streamlines timesheet collection and automates approval workflows. Add an approval hierarchy to provide additional workflow functionality to this application, ensuring managerial approval is needed to approve time sheets.
Submit, approve, and archive employee timesheets
View total hours spent on each project
Remote Work Dashboard - 4 Widgets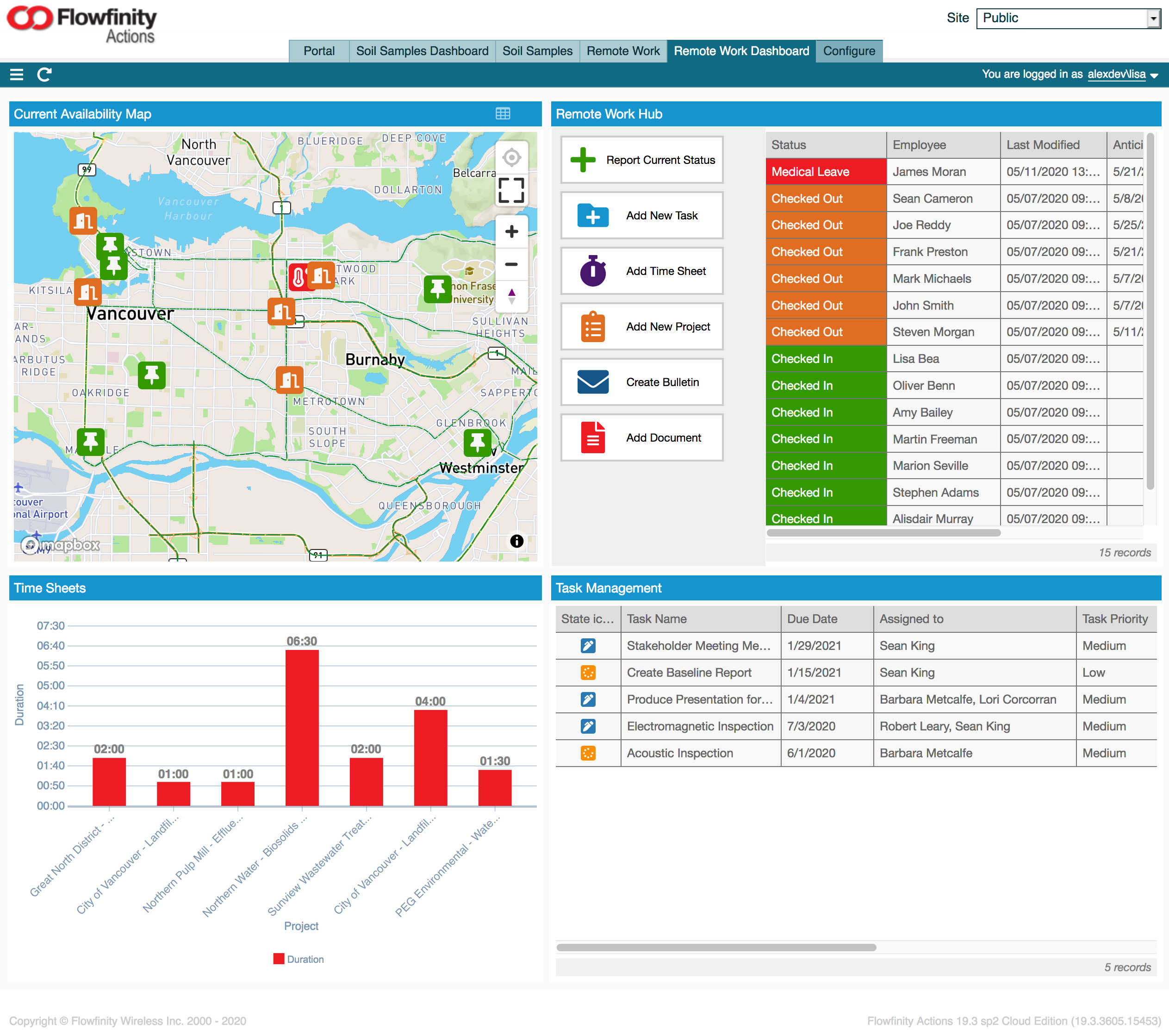 Current Availability Map Widget
A map widget that helps visualize the location and status of employees.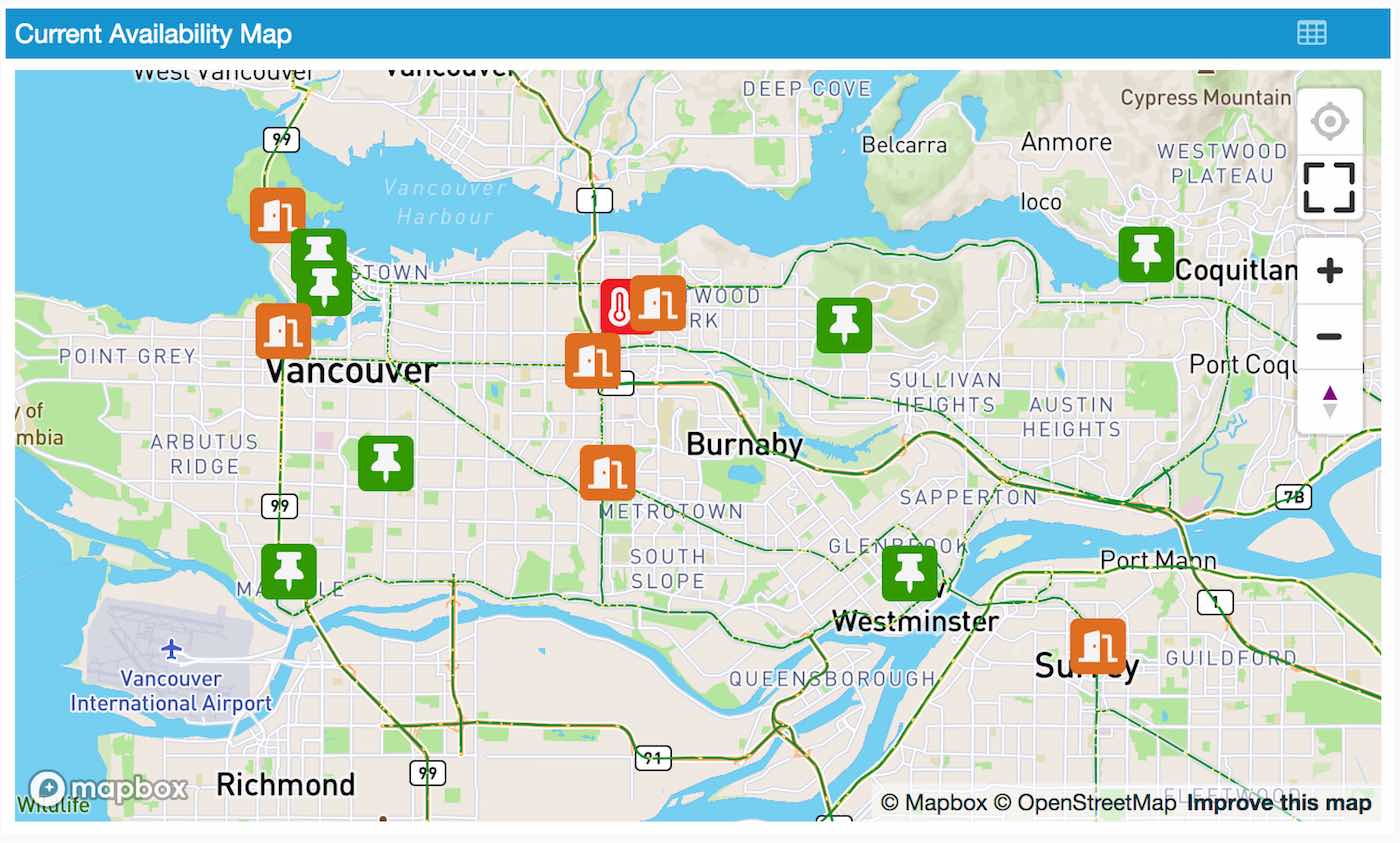 Remote Work Hub Widget
Provides a list of all employees that can be filtered by current status, location, or last check in time.
This widget all presents a list of buttons that launch operations to create a new record within the following applications:
Report Current Status ➔ Current Availability app
Add Time Sheet ➔ Time Sheets app
Assign Task ➔ Task Management app
Add New Project ➔ Projects List app
Create Bulletin ➔ Company Bulletin app
Add Document ➔ Document Library app
Task Management Widget
Lists tasks as displayed in the "Planned or In Progress" view from the Task Management app.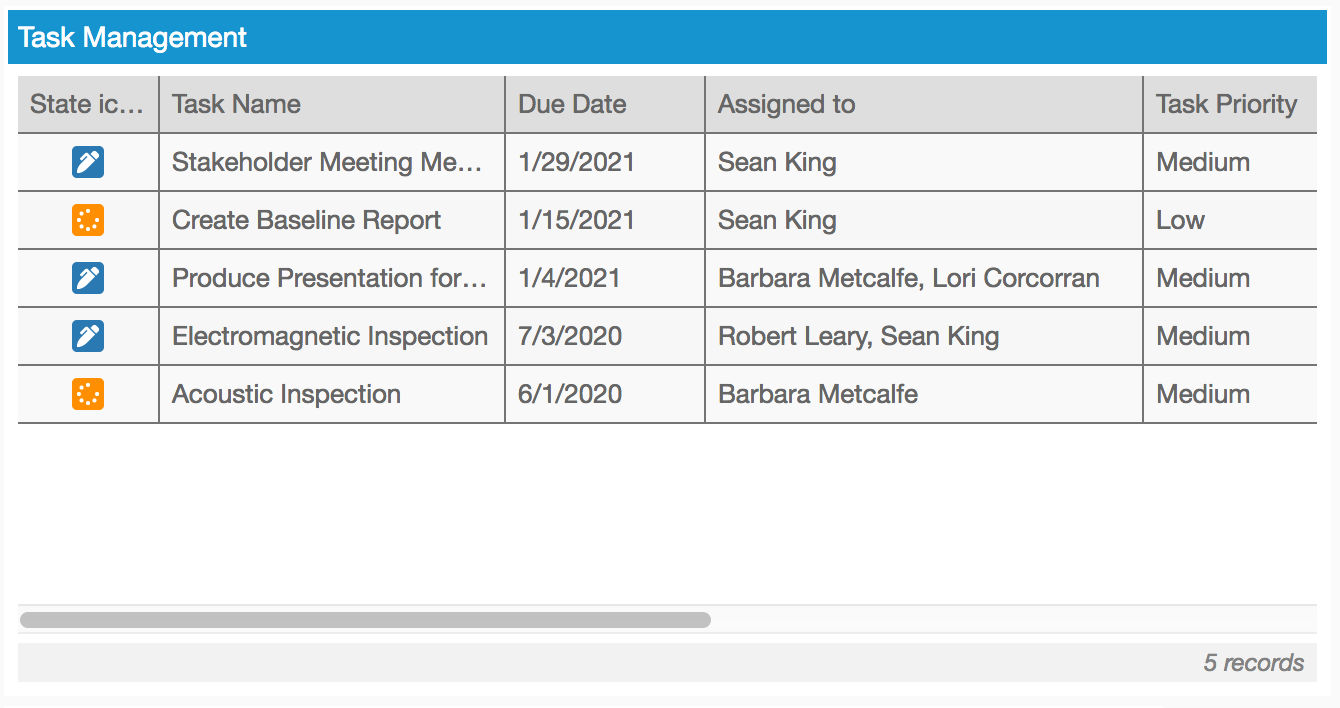 Time Sheets Widget
Displays the cumulative amount of time spent on each project.