Suja Juice Wins 2014 SMB Market Award For Use of Flowfinity Retail Audit Solution
Flowfinity customer recognized by Consumer Goods Technology Magazine for empowering its sales and merchandising team with mobile technology to achieve substantial growth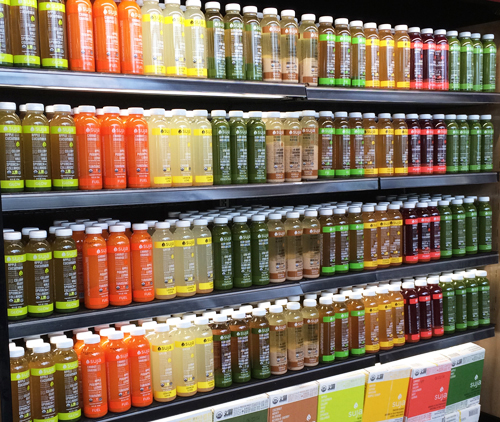 VANCOUVER, BC, Oct. 27, 2014 - Flowfinity Wireless Inc., a proven provider of enterprise mobile apps, today announced that its customer Suja Juice has been selected as the first place winner of Consumer Goods Technology Magazine's 2014 SMB Market Award. The award recognizes a small to mid-sized consumer goods firm that is best utilizing technology to achieve substantial growth in size and/or revenue.
Suja Juice was recognized for implementing a Flowfinity mobile solution that enables its merchandising team to gather valuable real-time data in retail stores about out-of-stocks, shelf space, and competitor activity. The award was presented at the Consumer Goods Business & Technology Leadership Conference Friday, Oct. 24 at the Grand Floridan Resort & Spa in Orlando, Fla.
The company uses Flowfinity Actions, a flexible software platform that enables businesses to create highly customized mobile forms and enterprise applications without programming. Leading consumer goods companies use Flowfinity Actions for critical data collection and reporting activities at retail.
"The Flowfinity platform gives us the ability to capture real-time, store level data that helps us better understand our corporate customer base and develop highly targeted sales strategies," said Jody Cnossen, VP of Retail Sales & Merchandising, Suja Juice. "The efficiencies in reporting will also help increase our sales call coverage by nearly 20 percent."
Suja Juice, a leader in cold-pressed organic juices and smoothies, was named #3 in Forbes Most Promising Companies in 2014.
For more information about Flowfinity solutions for the consumer goods industry, visit: https://www.flowfinity.com/solutions/consumer-packaged-goods.aspx
About Flowfinity
Flowfinity provides a proven, fully customizable solution for building enterprise mobile apps without programming. Since 2000, Flowfinity has helped leading companies across industries improve productivity, engage management, and improve business insight through all areas of the organization. By making it easy and fast to mobilize day-to-day business processes on smartphones and tablets, Flowfinity enables mobile teams to access, survey, report, and share information when and where they need to. Top global brands in consumer goods and other industries rely on Flowfinity software as the standard technology for automating critical business processes. For more information, visit https://www.flowfinity.com
Back to List