ShelterBox and Flowfinity Partner to Boost Disaster Relief Efforts with Mobile Technology
Flowfinity mobile software helps ShelterBox collect critical data in disaster relief zones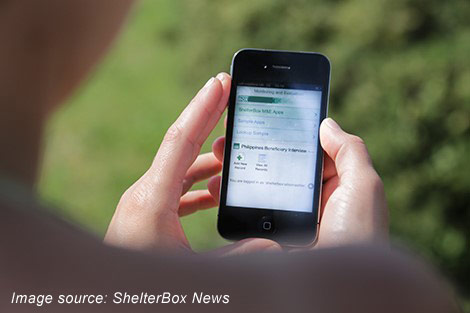 VANCOUVER, BC, Feb. 25, 2015 - Flowfinity Wireless Inc., an enterprise mobile app software company, today announced that it has partnered with non-profit organization ShelterBox to transform the way data is collected from the front lines in areas affected by natural disaster and humanitarian crisis.
ShelterBox provides emergency shelter and supplies to communities around the world overwhelmed by disaster. The organization wanted to replace paper forms with mobile apps in the field to improve efficiency and distribution of relief resources.
Flowfinity's configurable mobile app platform now helps ShelterBox quickly roll out apps as needed to replace various paper forms in use. Having recently used Flowfinity on iPhones in Paraguay, Serbia, and the Philippines to survey recipients of ShelterBox aid, the organization now plans to expand its use of the software with an iPad app in Spanish and English for another aid evaluation project in Paraguay.
"Flowfinity is helping us improve monitoring and reporting from the field so that we can tailor our aid offerings to meet the needs of our beneficiaries," said Olly Spooner, I.T. Support and Database Officer, ShelterBox. "By making it easier to collect and report on this vital information, we're also able to improve accountability to our donors."
"We are pleased to support ShelterBox in its efforts to become efficient in day-to-day operations, so that valuable funding can be freed to provide an even greater impact for families and communities in need," said Larry Wilson, VP of Sales and Marketing, Flowfinity.
For more information, please visit: https://www.flowfinity.com/blog/shelterbox.aspx
About Flowfinity
Flowfinity provides a proven, fully customizable solution for building enterprise mobile apps without programming. Since 2000, Flowfinity has helped leading companies across industries improve productivity, engage management, and improve business insight through all areas of the organization. By making it easy and fast to mobilize day-to-day business processes on smartphones and tablets, Flowfinity enables mobile teams to access, survey, report, and share information when and where they need to. Top global brands in consumer goods and other industries rely on Flowfinity software as the standard technology for automating critical business processes. For more information, visit https://www.flowfinity.com.
Back to List