Flowfinity Transforms Operational Intelligence with Real-Time Dashboards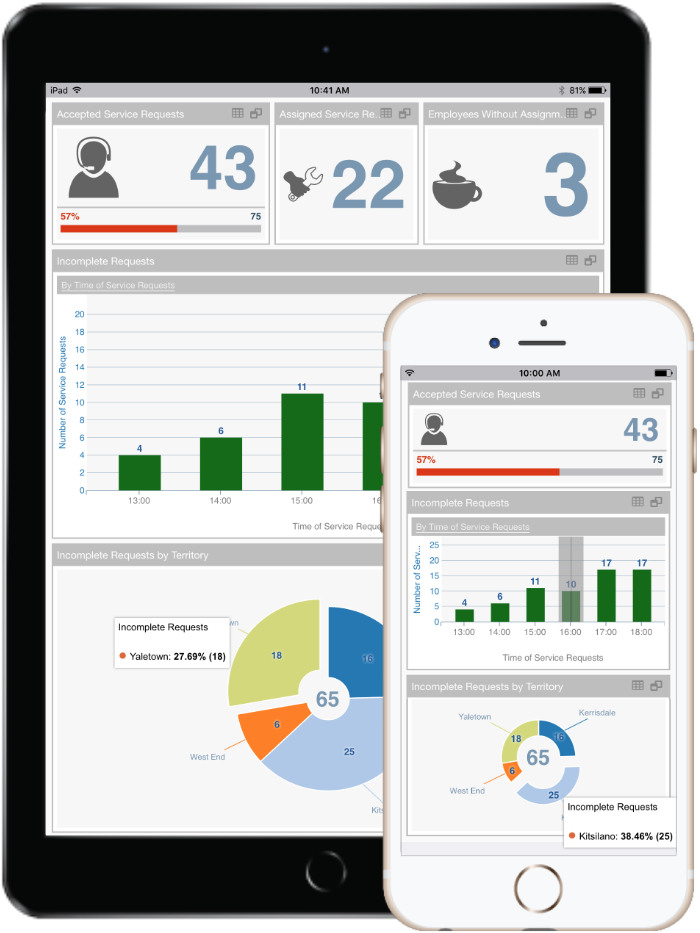 VANCOUVER, BC, May 30, 2017 - Flowfinity Wireless Inc. today unveiled real-time dashboards for its enterprise mobile application software, allowing organizations to have faster access to visualized, critical information from the field for improving operational intelligence.
Flowfinity allows end-to-end business process applications to be quickly built and implemented, without code. Line of business teams and IT professionals can now also create custom dashboards in a matter of minutes with a point-and-click editor. Real-time data is aggregated in an automatically managed database as it comes in, providing easy access to support faster and smarter business decisions.
Real-time dashboards let management teams stay connected to business operations wherever they are. Flowfinity dashboards can be viewed on both web and mobile devices, allowing managers to monitor activities and stay on top of business as it happens.
Organizations can use powerful charting capabilities and presentation options to customize and display data in a rich and meaningful way. Multiple charts can be linked to reflect operational relationships to see how different information interacts, so any red flags can be spotted immediately.
Unlike cloud-based dashboard solutions that rely on periodic data export, Flowfinity offers fully integrated operational analytics features that allow business managers to oversee their business processes in real-time and close the workflow loop faster. Organizations can quickly address high priority issues discovered with operational dashboards, ​and then continuously monitor the resolution progress in real-time.
Flowfinity dashboards also offer flexible drill downs and data filters that can be leveraged by users to target a specific data set, down to the last detail.
Whether for customers, partners or internal staff, role-based permissions let managers control how data is accessed and by whom. Information is filtered according to each role, so users can also save time and remain productive by only viewing data that is most valuable to them.
"Flowfinity is critical for organizations that perform high-priority work in the field and need to stay on top of every situation," said Larry Wilson, VP Sales & Marketing, Flowfinity. "We're excited to offer robust, flexible dashboards that will help our customers learn and solve business problems in real-time."
To learn more, please visit https://www.flowfinity.com/apps/new-features.aspx
About Flowfinity
Flowfinity is flexible software for building end-to-end business process applications faster. It enables hands-on staff to create sophisticated workflow solutions with a point-and-click interface, not code, significantly reducing deployment time and maintenance costs of mobile applications. Based on a foundation of mobile technology, Flowfinity combines web-based application building tools, a cloud database, dashboard reporting, and cross-platform mobile apps for smartphones and tablets. Since 2000, Flowfinity has been used by top global organizations across industries to automate data flow and communication between field employees, office staff, partners and customers. For more information, please visit: https://www.flowfinity.com.
Back to List