Flowfinity Announces New Features for Accelerating Digital Transformation with No-Code Applications
VANCOUVER, BC, Mar. 14, 2018 - Flowfinity Wireless Inc. today released new software features that will allow businesses to accelerate digital transformation with powerful enterprise applications and dashboards.
Flowfinity empowers business users as well as developers to build powerful business process applications rapidly, without code. The software includes a point-and-click application editor, web portal, native mobile device clients, and dashboards for data visualization.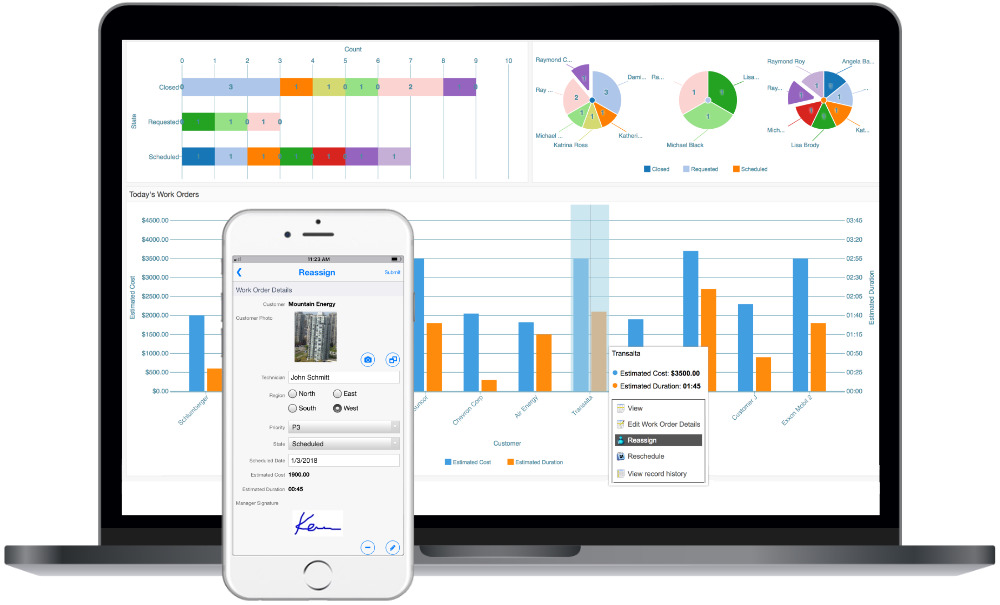 Flowfinity is used across industries including engineering, field services, consulting, manufacturing and consumer goods for automating critical workflows and driving efficiency.
The latest features include the ability to edit records or execute business workflows directly from dashboards. This enables users to drill down into real-time data collected in the field, gain critical insight quickly, make decisions and take action, all from a centralized dashboard.
For example, a field services company can monitor completed work orders and field technicians throughout the day, and reassign jobs based on available resources with just a few clicks. A consumer goods manufacturer can review store audits in real-time, identify out-of-stocks and immediately order more stock.
Other dashboard enhancements include the ability to create custom buttons that open data views or launch activities, draw reference lines to quickly visualize KPIs, and display dashboards on TV screens for live operational intelligence.
One customer, Metro Mobile Electronics, uses Flowfinity to monitor field staff who perform GPS service and installations. "With Flowfinity applications and real-time dashboards, we effectively track and monitor productivity of field technicians, across the country," said Devin Warner, Owner, Metro Mobile. "The new features will allow us to display dashboards on TVs throughout our corporate office, so management can get full-screen, live updates at any time."
Flowfinity has also updated its application editor with enhanced workflow features. Application designers now have the option to create custom business rules that define whether a record should be moved to another workflow state or remain in its current state. In addition, fields can be set to a default value calculated from other fields or data, and be reset to that default value at any point in a business workflow.
"Ongoing digital transformation is critical for organizations to stay competitive, and we are pleased to offer a powerful, end-to-end business process management tool that enables our customers to rapidly make changes as their needs evolve over time," said Larry Wilson, VP Sales & Marketing, Flowfinity. "In Flowfinity, the mobile applications, database, workflows and data visualizations are centralized and can be updated all at once with the click of a button. This is very powerful for our customers who build complex systems, but wish to remain agile and flexible."
For more information, visit: https://www.flowfinity.com/apps/new-features.aspx.
About Flowfinity
Flowfinity is flexible software for building end-to-end business process applications faster. It enables hands-on staff to create sophisticated workflow solutions with a point-and-click interface, not code, significantly reducing deployment time and maintenance costs of mobile applications. Based on a foundation of mobile technology, Flowfinity combines web-based application building tools, a cloud database, dashboard reporting, and cross-platform mobile apps for smartphones and tablets. Since 2000, Flowfinity has been used by top global organizations across industries to automate data flow and communication between field employees, office staff, partners and customers. For more information, please visit: https://www.flowfinity.com.
Back to List