Flowfinity Unveils Project Asset Hub to Streamline Process Improvement Record Management
Vancouver, B.C. - Flowfinity, a leading no-code platform for business process automation, has announced the launch of a new free application called the Project Asset Hub. The Asset Hub was designed to help people responsible for managing process improvement projects by being a single source of truth for assets including records and documentation related to stakeholders, requirements, scope, QA testing and more.
People driving process improvement such as Business Analysts and Project Managers know that incomplete or inaccurate project documentation can lead to costly errors or delays. So now they are embracing the Asset Hub to be confident all documentation is accurate and up-to-date to streamline agile solution delivery. The application is deployed on the Flowfinity platform so it's highly flexible and configurable, allowing users to tailor the system to meet the specific needs of their organizations.
"We're excited to offer complimentary access to the Project Asset Hub to help manage the important records required to drive process improvement project success," said Larry Wilson, Vice President of Sales and Marketing.
"We know from experience that projects of any scale generate interrelated documentation that needs to be accurate and accessible, or requirements can be missed, or stakeholders overlooked, leading to missed deliverables and delays. With feedback from our clients and industry, we're now offering a free solution to overcome this universal challenge."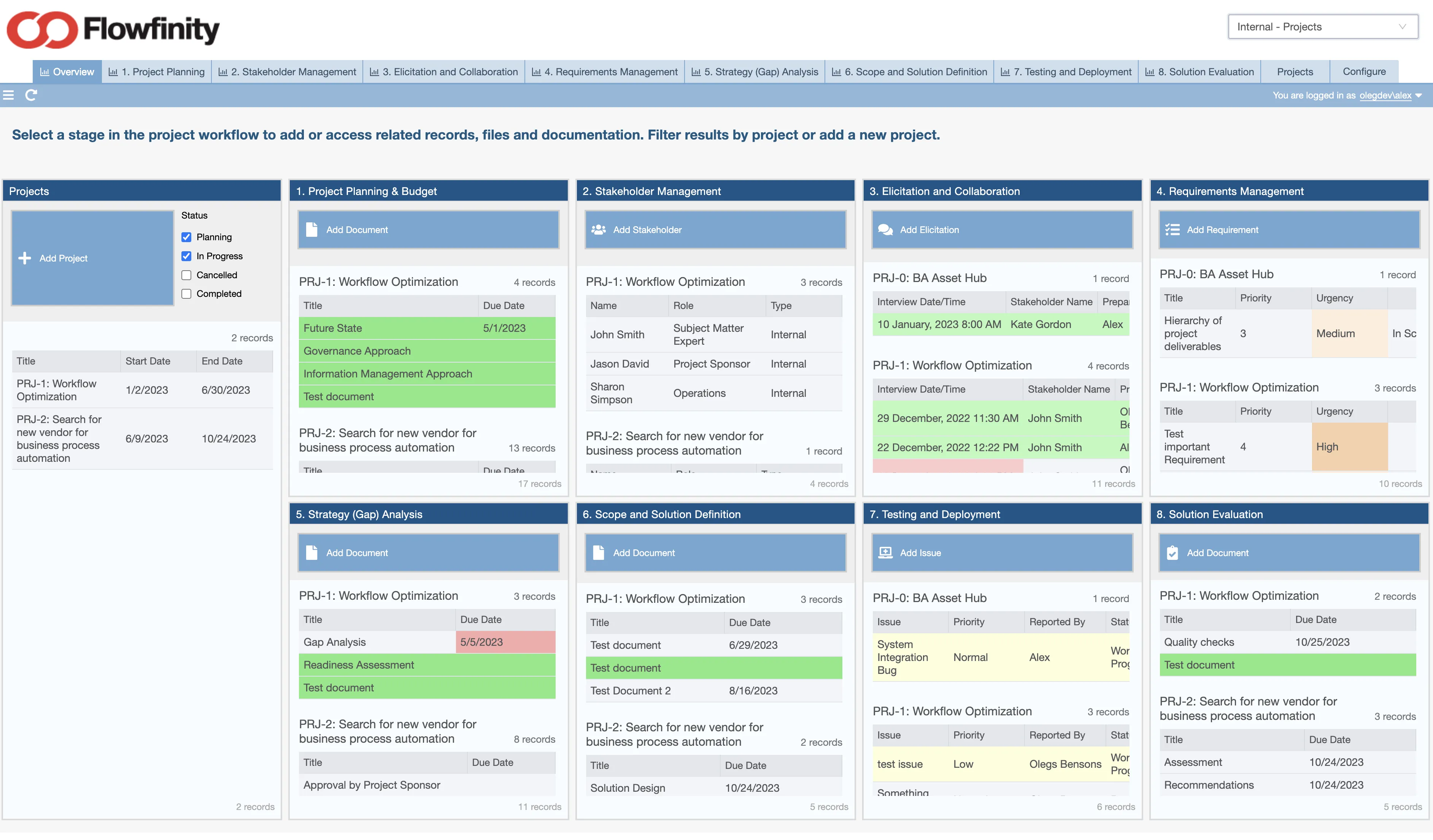 The Project Asset Hub is based on best practices as described by the International Institute of Business Analysis and organizes records and documentation in eight discrete stages throughout the life of a project. The application is highly scalable whether utilized by a team of one or one hundred and can be easily configured without code to meet the needs of any specific project, large or small.
The Project Asset Hub is the latest addition to Flowfinity's suite of no-code software applications for business process automation. With a focus on empowering business users to automate their workflows, the Flowfinity platform has been adopted by organizations across a wide range of industries, including engineering, manufacturing, and field services.
Flowfinity is offering the Project Asset Hub as a complimentary tool, contact us to see if the Project Asset Hub is right for you.
About Flowfinity
Flowfinity is a no-code development platform used by people closest to their real-work business processes create, automate, and integrate custom applications independently. For over 20 years, Flowfinity has empowered business analysts and IT professionals to build flexible, scalable field data collection apps and workflow automations without committing the resources required to write and maintain code.
Our powerful toolset combines a web-based app editor, central SQL database, advanced mobile data collection, process automation, interactive dashboards, reliable system integration and IoT data streaming and storage capability. For more information, please visit our Project Asset Hub resources page.
Back to List