Innovative New Project Asset Hub Helps Teams Manage Business Process Improvement Projects
Vancouver, BC, November 2 – Flowfinity, a leading no-code platform for business process automation, is now offering free access to their newest application, the Project Asset Hub. Designed with input from leading Business Analysis professionals to meet their unique needs, this scalable tool transforms how process improvers track and manage documentation for business process management (BPM) projects large or small.
Now, you can ensure that crucial project resources are always up to date, organized, and readily accessible by the people who need them right when they need it. This fosters an environment where teams can focus on improvement and innovation, confident that their project deliverables and priorities are accurate in a central source of truth for all stakeholders.
One of the biggest challenges faced by organizations running multiple process improvement projects is how to organize and track all their related assets. Incomplete or inaccurate records and documentation can lead to scope creep, missed requirements, and costly delays.
Project Asset Hub acts as a centralized repository that organizes your records into customizable project stages based on best practices to aid the success of BPM project delivery. The application helps you manage and track assets throughout the project lifecycle from initiation to stakeholder engagement and requirements gathering to archiving the final documentation.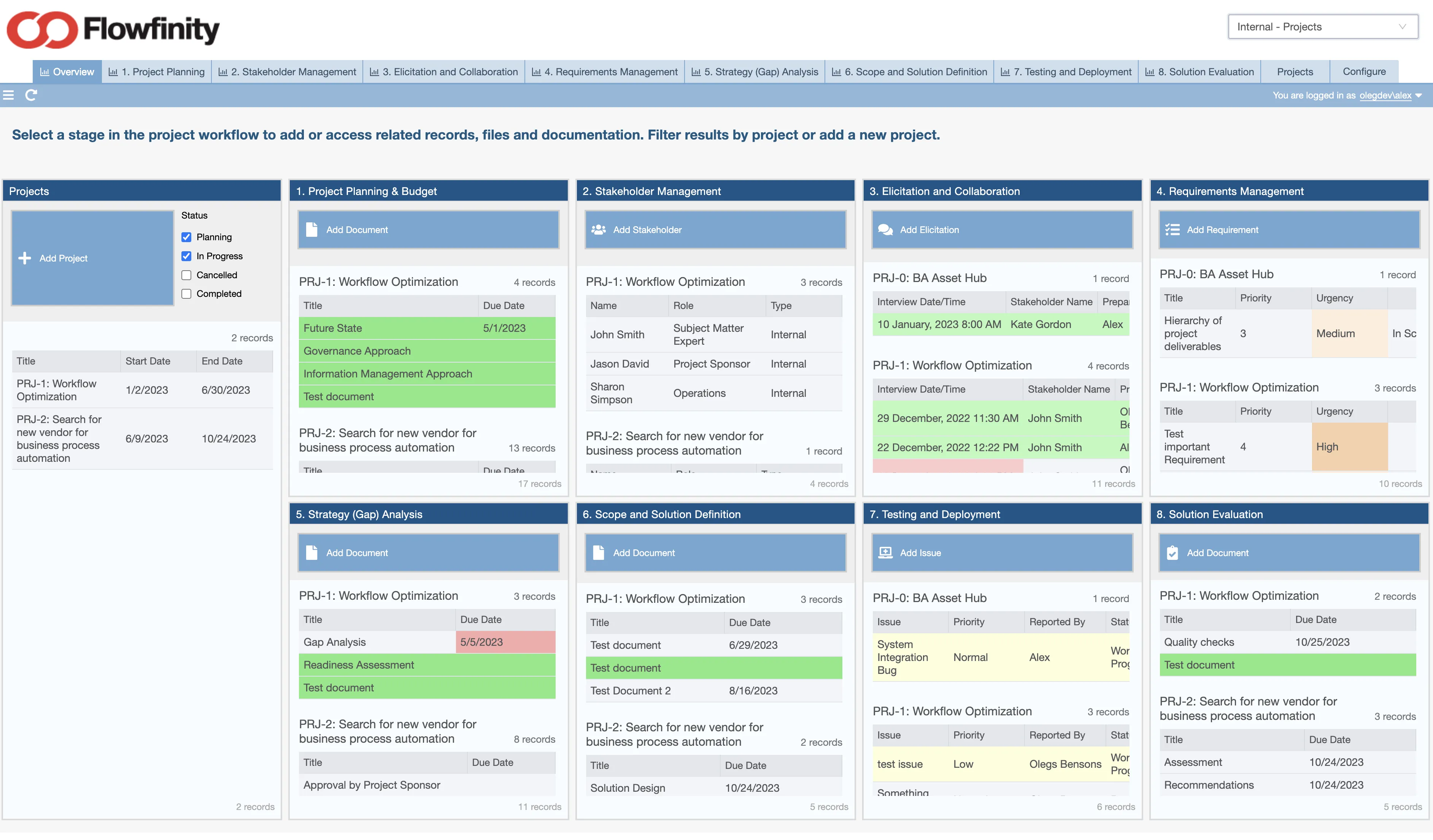 "We saw a critical need for a specialized tool to simplify the documentation of business process improvement. That's where the Project Asset Hub comes in," said Larry Wilson, Vice President at Flowfinity.
"Our objective is to empower process improvers with a tool that enables them to manage projects more easily with greater confidence in the accuracy of their documentation. Now we're offering the tool free to the business analyst and process management community."
The application is built in the Flowfinity no-code platform, so it's highly flexible and customizable, allowing users to tailor the system to meet the specific needs of their teams, for projects of any scope or duration. Designed to be more than just a documentation tool, it's a comprehensive solution crafted to address the challenges faced by modern business analysts.
Project Asset Hub is now available to try free of charge and we invite process improvers to experience it firsthand. Take tour of the solution and learn how to optimize your BPM projects or contact us for more information.
About Flowfinity
Flowfinity is a no-code platform that empowers the people closest to their real-work business processes to create, automate, and integrate custom applications. For over 20 years, Flowfinity has helped process improvers build flexible, scalable data management and workflow automation apps without committing the time and resources required to write and maintain custom code. Now the platform is free to try with the complimentary Project Asset Hub.
The intuitive no-code platform combines a web-based app editor, SQL database, process automation robots, advanced data collection including IoT data streaming capability, interactive real-time data visualization dashboards, and reliable system integrations.
Back to List