Streamline Environmental Field Data Management
Create and deploy custom applications to standardize field data collection
and simplify compliance reporting.
Reduce costs, improve insight and minimize project risk
Ensure your records are accurate at the source with entry validation rules and easily accessible in a central database. Connect structured data with basemaps from popular GIS solutions and plot exact location coordinates with high-precision GNSS.
Turn observations into actionable intelligence and move projects smoothly from the field to final report. Configure applications for:
Environmental monitoring
Compliance reporting
Site assessment and remediation
Infrastructure inspection
Asset management
Worksite safety
Civic engineering
Geotechnical investigation
Seismic surveys
Ground and wastewater
Soil sampling
Social impact assessments
Trusted by Industry Leaders

Reduce costly data recording errors
Prevent costly errors and omissions by creating digital workflows with on-device calculations, conditional skip logic, entry validation rules and mandatory fields. Stop performing tedious data re-entry tasks using paper forms and spreadsheets and give your team back hours of time!
Mobile apps even work offline in remote or restricted areas. Choose from over 30 advanced data collection form field types:
High precision 3D GNSS locations
Photos with sketch
Signature capture
Audio recordings
Barcode scans
Nested fields
User and role lookups
Timespan, timestamp and dates
Text, numeric, email, attachments
Advanced calculations and formulas
Improve insight into field operations
Gain instant access to field data from a central database and real-time visibility into operations through detailed dashboard data visualizations and interactive maps that drive actionable insights. View project data anytime, anywhere on the web and mobile devices.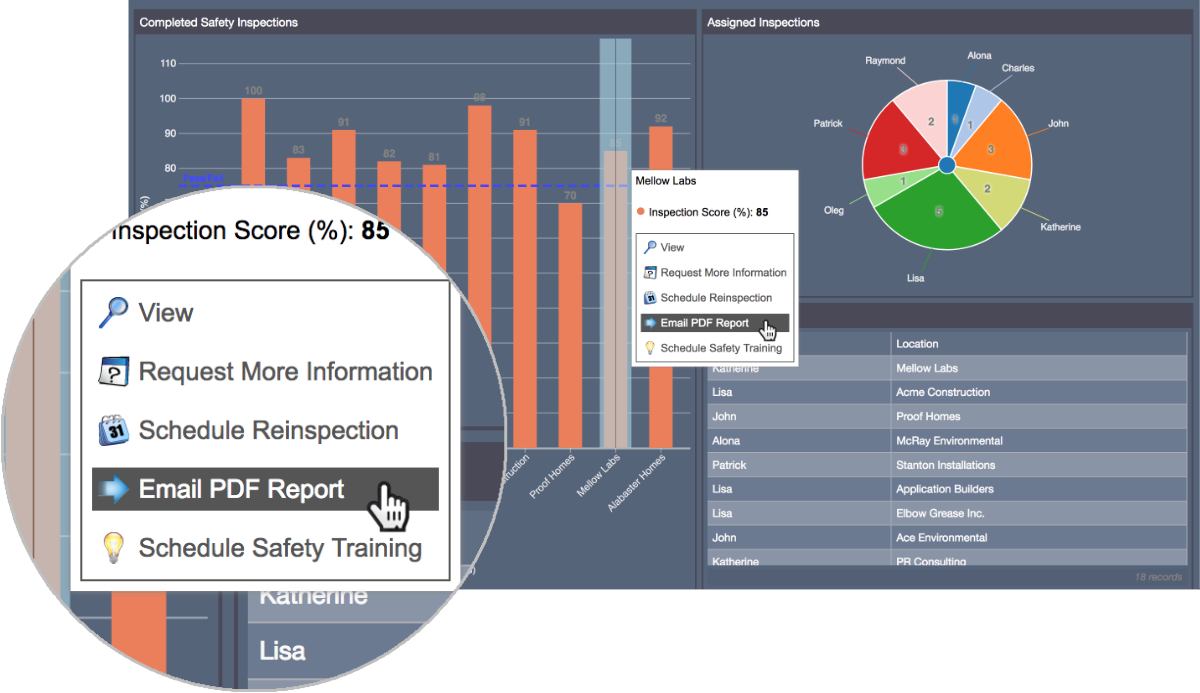 Control access to sensitive information with role based user permissions and email automated PDF report summaries to key stakeholders, reducing the need for meetings.
Launch actions directly from dashboard widget charts and maps
Highlight KPI's and sampling thresholds
Generate email notifications to improve communication
Automate the creation and distribution of PDF summary reports
GPS locations, timespan, dates
Plus more
Flowfinity also allows you to render geospatial data onto custom maps hosted in dashboard widgets, providing GIS analysis capabilities without leaving your core data management system.
Compatible with Esri, Mapbox and MapTiler basemaps.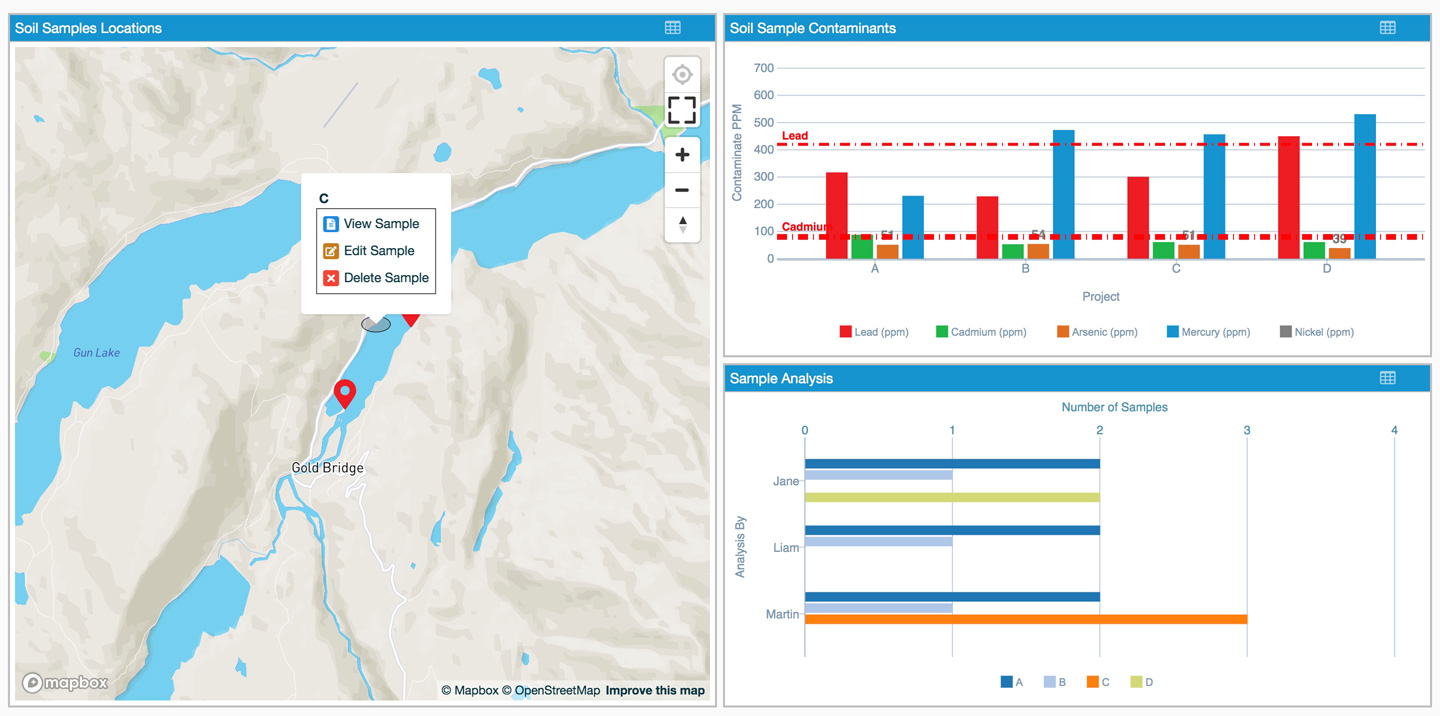 Hemmera, an Ausenco Company, used Flowfinity to streamline data management and reporting, greatly improving organizational communication and efficiency.
Minimize project risk with unified systems
Flowfinity's no-code platform lets you quickly build your ideal solution suited to your needs. Integrate your database with GIS, ERP, or CRM software to create end-to-end processes that will help your projects flow smoothly to completion.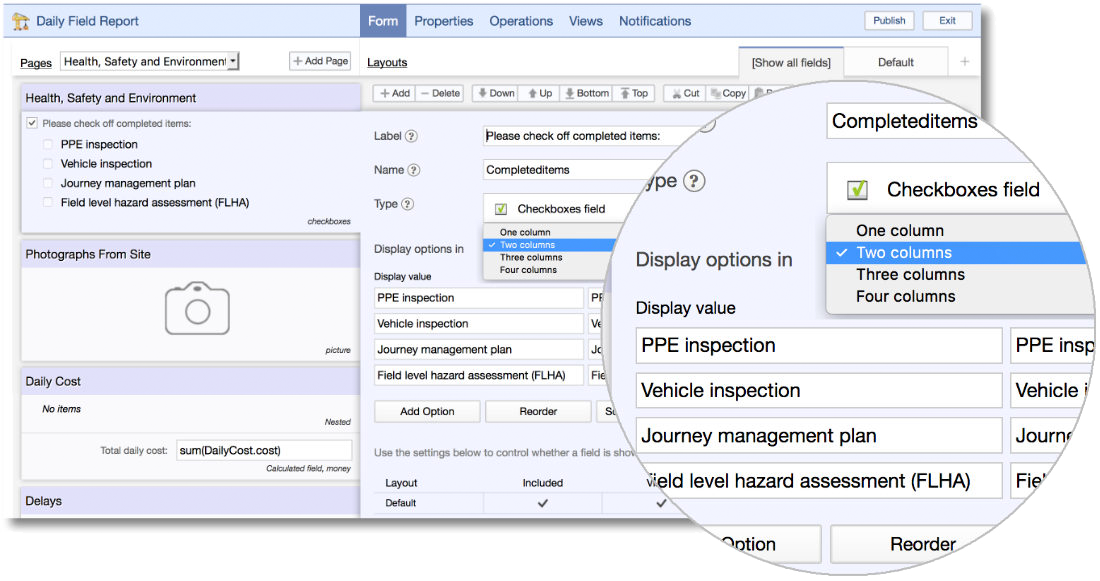 Increased efficiency and improved access to information frees time and empowers teams to make smarter decisions in urgent situations.
Integrate using popular tools Microsoft Power Automate and Zapier
Connect using REST or SOAP API architecture
Create a unified system with GIS, ERP or CRM
Deploy securely in the cloud or on-premises