Transform Water and Wastewater Operations
Digitize asset management, field data collection and work order dispatch with custom apps.
Read our complimentary water and wastewater white paper to learn why leading Water Utilities use Flowfinity to streamline data collection and reporting in the lab, field, and facility. Integrate Flowfinity applications with existing SCADA software, databases and leading GIS mapping platforms to build a unified system that can deliver real ROI.
Free your water utility from a reliance on outdated processes driven by paper forms, spreadsheets and legacy systems that lead to data collection and reporting errors that hinder operational efficiency.
Facility and Site Inspections
Work Order Dispatch and Scheduling
Asset Management and Maintenance
Sample Collection and Management
Timesheets and Billing
Safety Checklists
Customer Support and Reporting
Interactive Operational Dashboards
I'm ready to innovate with no code. Show me more.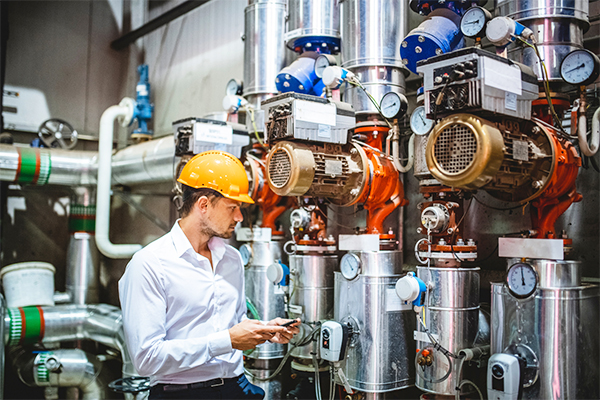 Increase efficiency with digital data collection and reporting
Reduce delays and information gaps caused by missing reports and lost paperwork by digitizing data collection. Gain visibility into field operations in real-time and provide mobile access to operational dashboards so staff can stay productive wherever they are.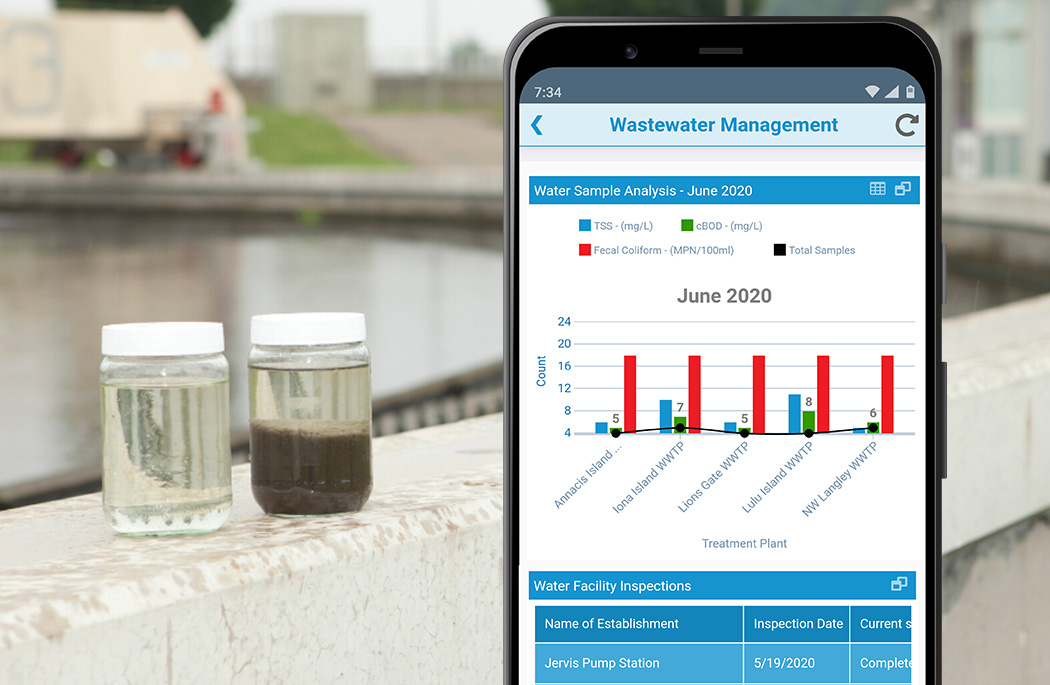 Maximize safety and compliance with accurate sample management
Improve public and environmental safety and compliance by collecting and maintaining accurate sample data. Provide offline mobile access to forms and workflows with a searchable audit trail of daily sampling activity. Deploy IoT controllers to monitor storage temperatures in the lab to ensure consistent and reliable sample preservation.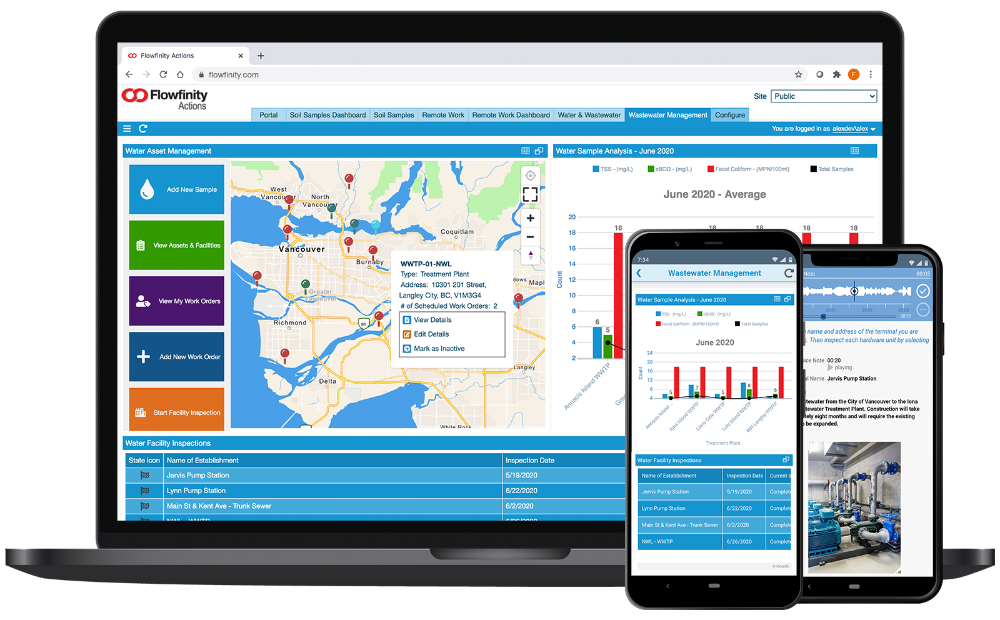 Reduce operating costs with custom GIS solutions
Display high-quality data in interactive GIS maps for real-time visibility into operations, maintenance, inspections, construction, and more. Replace forms, spreadsheets and legacy software with map-based data collection and workflow management applications integrated with core operational systems to save your team time and effort.

"Flowfinity's SQL backend allowed us to develop innovative data integrations directly with the Enterprise GIS system that the District runs, allowing for easy map display and interactions. We project a 160% return on investment within 5 years."

Senior Engineering Technician, Clark Regional Wastewater District
Maximize ROI with improved asset management
Design a custom asset management hub with interactive dashboards, automated workflows and integration with SCADA systems to assist in preventative maintenance. Monitor and control physical assets using digital systems to make data-driven decisions that improve operations and prolong asset life.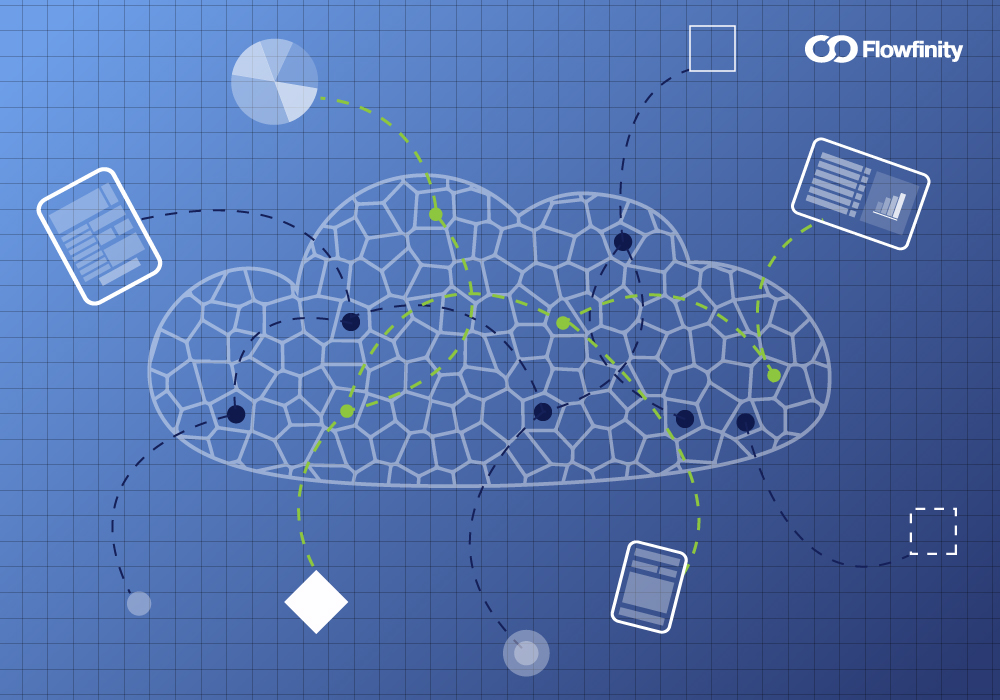 Deploy applications instantly across all your devices
Create applications as a service for any project to meet changing organizational needs. Configure forms and workflows using point-and-click tools in the cloud, so you can stay flexible and rapidly scale solutions as needs arise. The City of Cincinnati responded effectively to a 100-year storm emergency by quickly deploying apps built in Flowfinity.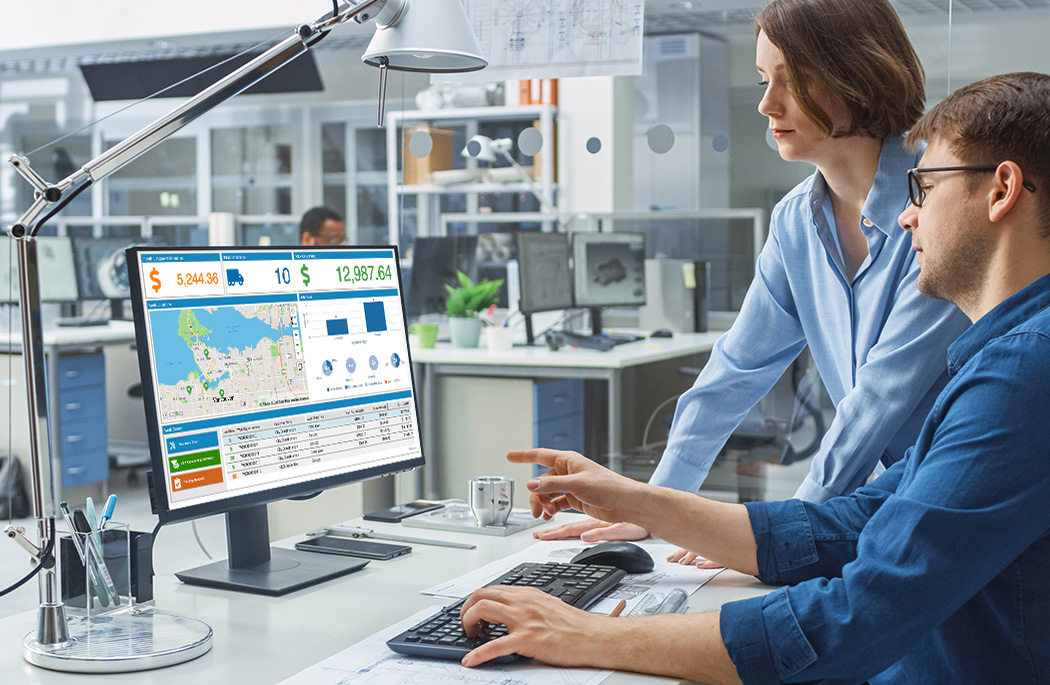 Get started today with water utility application templates
Invite your team to trial Flowfinity at no cost for 14 days and download our wastewater application template bundle to get started customizing your own apps for real-time water and wastewater data collection and workflow automation. All records are securely stored on a central database for access on any device, anywhere.
Ready to see a demo?
We've told you that Flowfinity is the fast, easy and secure way to deploy enterprise-grade applications, now let us show you how.
Join our experts for a personal 30 minute demonstration to discover how our powerful no code development platform can help you reimagine your processes, accelerate solution delivery and transform your business.