How GIS mapping with structured data collection improves operations and reporting
May 13, 2021, by Sean King
Flowfinity offers a better way to collect and manage field data. Empower GIS professionals and operations managers to create custom digital workflows that streamline the flow of data from the field to the final report.
Introduction
According to research, 95% of executives believe mapping and geospatial data is important to achieving their current business goals. And the importance of geospatial data will only increase, with over 91% of executives predicting that it will be even more essential in 3 to 5 years.
But to leverage mapping and geospatial data efficiently, most organizations will need to streamline their data collection and business processes. Our latest blog helps outline how GIS-centric organizations can leverage no-code platforms to create closed-loop IT ecosystems that connect structured data and workflow automations to your custom maps.
Background
For utilities and consultancies that rely on accurate geospatial information, streamlining the flow of data from the field to GIS systems is vital. Reducing errors, omissions, and delays helps you turn data into actionable insights that help drive the bottom line.
As things stand, many organizations continue to persist with tangled webs of paper forms, spreadsheets, and basic collection apps that limit you to merely displaying map features and attributes without the interactivity to launch workflows or edit database records from your maps. This is inefficient for field users and can risk managers reporting inaccurate or missing data.
Therefore, you end up spending too much time on data transcription and validation. Administrators are left chasing lost forms or triple-checking the latest versions of spreadsheets. Meanwhile, managers often lack the time or resources to reshape manual business processes for the better…
The solution lies in tying better field data collection and custom digital workflows with GIS systems, rounding out your organizational data management within a geospatial context. Easy, right? Unfortunately, existing off-the-shelf solutions are often inflexible because they cannot manage structured data in a relational database, while custom-coding a solution can be prohibitively complex and expensive.
The reality is that upgrading your systems and business processes can be difficult. That's why so many utilities and consultancies have maintained paper forms, spreadsheets, and basic form-based field data collection apps. And things are even more difficult for environmental or utility professionals, as not only do large volumes of data need to be collected, but they often need to be placed in hierarchies.
Consider an engineering project with multiple sites, each site may require various forms and field inspections, with data captured over time. The challenge is to create custom data management solutions that will create value, not cost time and resources.
Advances in no-code tools empower you to create a closed-loop data management system that enables you to remain GIS-centric and store data within its geospatial context. Now everyone benefits because they can submit and store records in a centralized database launched directly from objects displayed on your custom maps.
Connecting structured data and workflow automation with your GIS maps using the right no-code platform empowers operations managers to quickly configure new applications to streamline the flow of data through your organization. Meanwhile, administrators can assign and monitor inspections without waiting for forms or chasing down current spreadsheets.
And ultimately, your improved data management system will ensure engineers, scientists and field technicians are free to focus on their jobs, not the complexity of their data collection efforts.
Let's look at the three core components of an effective database-driven GIS-centric system:
1. Data collection apps that can be quickly configured for different projects without code
2. In-built GIS map hosting with flexible integration options to connect with other systems
3. Interactive reporting dashboards that provide actionable information in real-time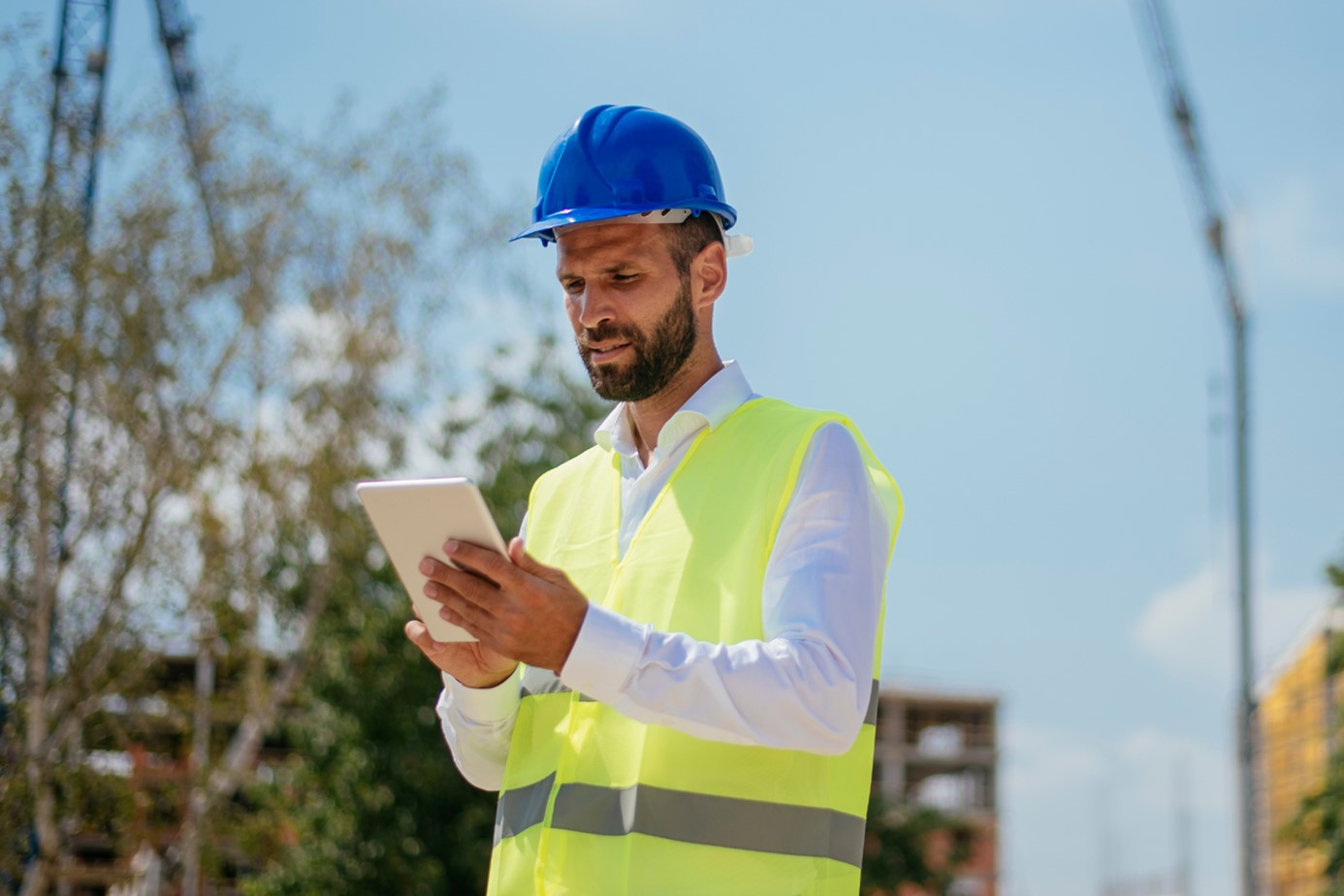 Data Collection Applications
Deploying custom data collection greatly improves efficiency, both in the field and the office. Digital forms can be completed and submitted via mobile devices instantly, and the data is stored in a central SQL database. This makes your data available to everyone in the field and the office in real-time, reducing delays and ensuring data is never lost or corrupted.
However, what separates simple forms from sophistication solutions is the ability to connect data to digital workflows. Off-the-shelf forms software lacks this flexibility, whereas no-code applications ensure a seamless flow of data through an organization.
Using the Flowfinity no-code platform, you can quickly configure custom data collection apps for any project or process without complex programming and connect this data directly to business processes.
Flowfinity also supports rich data collection so field users can capture things like photos and high-precision GPS coordinates and directly upload those from their mobile forms to records that are displayed as objects in your GIS maps. This not only improves user experience but also further reduces administrative burdens.

One of our first tasks was to find a good field form app, we wanted to keep our systems as GIS centered as possible. Other Esri compatible solutions that were Excel based didn't really lend themselves to the dynamic data that we needed.
- Senior Engineering Technician (GIS), Clark Regional Wastewater District
This change can have huge benefits to organization efficiency, for example, one Flowfinity customer saved up to 373 hours of labor in their first year with custom data collection apps.
You can customize and automate digital workflows that guide data through the organization. For example, create a trigger so that once data has been captured and submitted, project managers or field staff receive automated email notifications alerting them when a situation requires action or review.
Management can always see the status of individual inspections and overall projects, making internal and external communication easier and improving the time it takes to move from the field to the final report. Our customers find that Flowfinity's custom workflows toolset can save managers up to 2 hours per day in reporting and reviewing time.
GIS Map Hosting and System Integrations
Flowfinity is a SQL database-driven platform, this is important as it allows you to connect rich, structured data with your custom GIS maps from providers including Esri, Mapbox, and MapTiler.
This brings together digital workflows and GIS analysis, allowing you to go beyond merely displaying features and attributes on your maps but make objects interactive with your database records so you can edit and launch workflows right from the map. For example, clicking on a polygon in your GIS system can launch a new inspection form in Flowfinity, or capturing a GPS location in your app places a marker on your map.
Operations managers can use real-time dashboard maps to view the real-time status of field assets, review sample data, check on the progress of work, and better manage field teams.

Flowfinity's SQL backend allows us to develop innovative data integrations directly with the Enterprise GIS system that the District runs, allowing for easy map display and interactions.
- Senior GIS Analyst/Developer, FLO Analytics
Your GIS maps are hosted within the Flowfinity application in dashboards widgets that can also host multiple basemaps. The integration is simple and requires no code. Records are stored in your central Flowfinity database that can be hosted in the cloud or self-managed on site. Flowfinity also provides open API access using either REST or SOAP so you can read and write records to other systems and integrate a truly unified solution that keeps mapping at its core.
This has empowered organizations like the City of Cincinnati to combine Flowfinity with Esri ArcGIS to streamline their field services and maximize operational efficiency.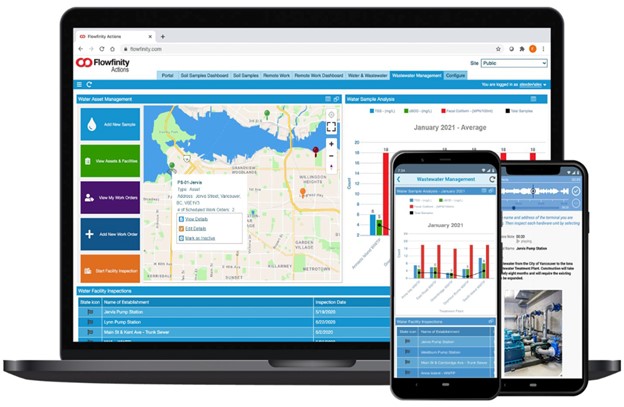 Interactive Reporting Dashboards
With improved field data collection, a dynamic database, and GIS map hosting in place, Flowfinity can also help you streamline your reporting processes. Flowfinity's operational intelligence dashboards can help organizations gain better insight into their assets, data, and processes and reduce the time needed to produce reports.
Filtering app data can provide managers to quickly search for necessary information and reduces the need for manual data manipulation when compiling internal reports.

Flowfinity's real-time reporting and flexible integration capabilities have significantly improved our business processes. We can easily monitor, control and analyze jobs at any time. The live feed limits phone calls to the field and gives us all the critical information we need to make faster and smarter business decisions.
- QHSE Manager, KBA Engineering
You can also configure automatic email notifications that update clients and stakeholders on the real-time status of an inspection, project, or report. With our PDF and Word document generation tools, you can also instantly generate client reports based on the app data – saving managers time and delivering results faster.
With on-demand access tokens, you can also grant your clients access to custom real-time reporting dashboards. Using a combination of interactive charts, tables, and maps, you can wow your stakeholders with an instant snapshot of their data. This could include a summary of past and scheduled inspections or grant self-service options to request new services or access historic reports.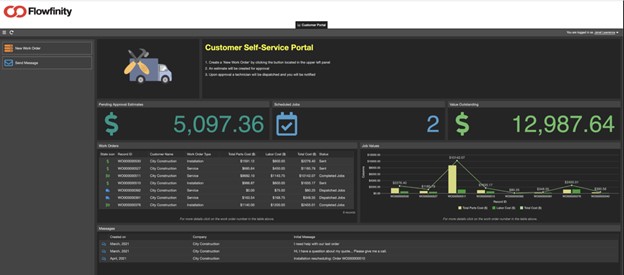 Conclusion
Flowfinity offers a better way to create, automate, and integrate business applications. Now you have the power to innovate GIS-centric structured data management solutions and quickly deploy custom automated end-to-end digital workflows.
You can collect and store your data, monitor your assets, manage your field operations, streamline your reporting, and ultimately integrate all of your vital data with your GIS solutions – all of this in one flexible no-code platform. To learn more, contact one of our experts.
Don't forget to share this post!