Flowfinity Launches Knowledge Base
July 30, 2015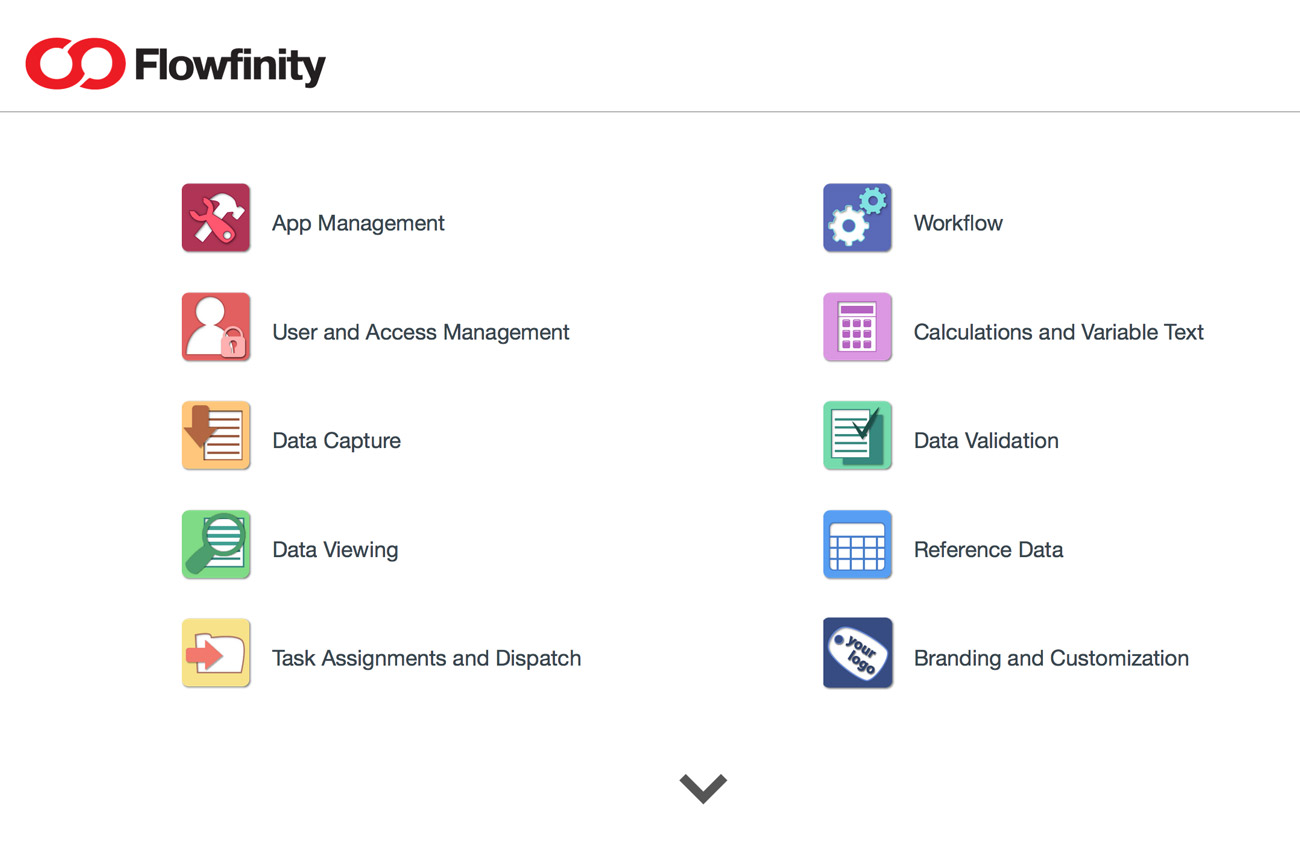 Creating the ideal mobile solution for your business doesn't have to be difficult. That's why Flowfinity recently launched a Knowledge Base, which offers step-by-step instructions for easily building enterprise-class mobile apps for improving productivity, streamlining field operations and eliminating paper and spreadsheets, all without programming. Here is a sneak peek of what you can find in the Knowledge Base.
App Management
Learn how to use Flowfinity's point-and-click editor to create new apps. You'll also find information on modifying existing apps. Once these apps or app changes are published, they are instantly made available to all users' mobile devices and on the web.
User and Access Management
Flowfinity puts you in control of which apps, information and activities are available to users in various roles, such as managers or field staff. You can also customize the user portal with shortcuts to frequently used operations, or remove shortcuts that are not as commonly used.
Data Capture
This sections explains how to set up a variety of basic and advanced features for capturing data in mobile forms, such as the Save as Draft option, which allows the user to save and edit records while offline, skip logic to display or hide fields, and nested fields that allow you to create offline lists with varying items.
Data Viewing
Discover a few different ways that Flowfinity lets you view and sort data: searching records created within a date range, adding thumbnail pictures to a view, and using GPS filters to find items closest to your current location.
Task Assignments and Dispatch
Flowfinity goes beyond basic dispatch to support task assignments by user or role. You can also set up workflows to re-assign tasks to others. Learn how to assign tasks or dispatch jobs to a single person or a team by user role.
Workflow
Every business process has a workflow associated with it. Learn how to set up custom workflow states for your specific business processes or use email notifications to keep customers, management, and other stakeholders in the loop. This section also covers how to set up an approval hierarchy for any mobile form.
Calculations and Variable Text
This section details some of Flowfinity's on-device calculation options and text operations. This includes combining text fields (eg. users input an address into separate fields, then it is automatically combined into a single field), dynamic field labels (eg. inches or cm to tell users what type of information to input), and calculating percent and total - a great feature for sales applications that may require a tax value or a final value to be displayed.
Data Validation
One of the benefits of using mobile forms over paper or spreadsheets is the ability to automatically check the data before it is submitted, whether for mistakes or missing mandatory information. In Flowfinity you can also automatically make certain fields mandatory depending on what the user entered in other form fields.
Reference Data
Flowfinity lets you access your reference data, such as customers, parts, products, or stores, online or offline on mobile devices. Learn how to access and select data from inside a mobile form using lookups, allowing you to copy information from previous forms or view other data without leaving your current form. In this section, you'll also find information on using barcodes to look up items, or copying records from other applications into a new form.
Branding and Customization
Make your company's mobile solution truly your own with Flowfinity's options for branding and customization. Create customized app icons and display your logo on both the portal and mobile forms.
Take Flowfinity for a test-drive and start building apps today.
Related Links
« How to Increase Retail Sales and Optimize Performance at the Shelf
Hemmera Presents Flowfinity Mobile Data Collection with ArcGIS at ESRI User Conference »