How Mobile Forms and PDF Generation Can Transform Your Business
June 18, 2015
If you're still drowning in paperwork and spreadsheets, you've probably figured out that it's time to find a mobile solution. Flowfinity recently introduced a simple but powerful feature that lets you go from mobile device to PDF for any mobile form that you create.
This means that you can collect, review and edit information on mobile devices, and automatically format it into a PDF, ready to send to the office or your customers. For example, create customer service confirmations, action item reports to store managers, or invoices to customers of repair services.
What does this mean for your business? Here's a look at some of the benefits that come with Flowfinity's new automatic PDF Generation.
End-to-End Business Processes
Flowfinity goes beyond your basic mobile form, providing a full mobile workflow solution for automating business processes. Now, with PDF generation, you can be even more efficient and spend less time organizing and reviewing data, since it's instantly consolidated into the correct format and ready for quick review. This speeds up the whole system, allowing data to be exported via PDF and passed on to the next step of your business operations.
Customizable Layouts and Colors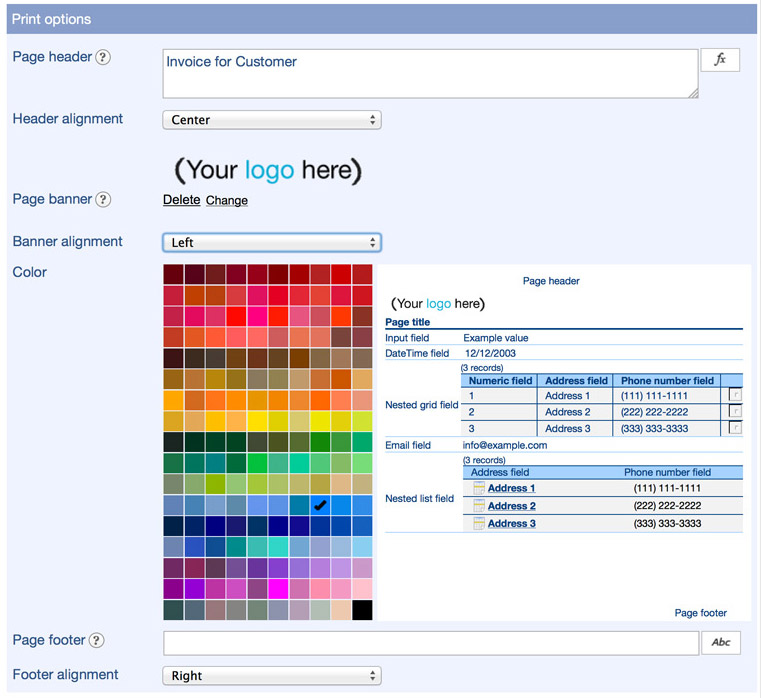 Flowfinity has flexible form layout options that let you configure your page title, header image, color scheme, footer and more. You have the ability to include as many layouts as you'd like in each app, with any combination of fields in each layout. These options let you customize your PDFs to suit your brand, and any layout can be saved as a PDF.
Layouts in Flowfinity also let you control which information is shown in each step of your business workflow.
Automated PDF Email Attachments
You can now automatically save and email forms in PDF format. With this option, employees can input information from remote locations on mobile devices, and the app will automatically create a PDF and attach it to an email when the employee hits submit. You can set up multiple email notifications to be sent out as soon as a single form is submitted, for example to notify management at the office with one report format and separately send a version to your customer with information they need to see.
Automated PDF Exports
In Flowfinity, you don't have to manage PDFs one form at a time. You can export multiple PDFs on an automated basis for your records or for integration with other systems.
Make It Optional
If you don't always need to generate a PDF for each record, simply use the "Save as PDF" menu item, letting you decide when you want a PDF and when you don't. This allows you the option to save PDFs on an ad-hoc basis, instead of having a PDF version of each form your employees fill out.
PDFs are just one way that Flowfinity can help you drive efficiency in your business. Start a free trial to find out more.
Take Flowfinity for a test-drive and start building apps today.
Related Links
« How to Build and Maintain Successful Business to Employee Apps
10 Ways Employee Apps Can Double Data Collection Efficiency »